BACK TO SIRE LISTING
Hoover No Doubt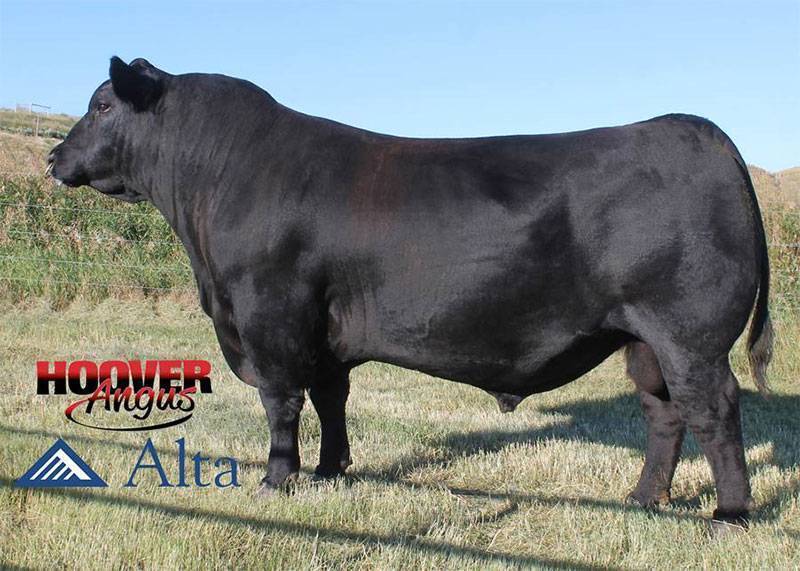 Mytty In Focus #
MOGCK Sure Shot #
Mogck Black Lass 2065
Mogck Bullseye #
K C F Bennett Coalition SCC #
Mogck Mary 1255
Mogck Mary C 1757
S A F Connection #+
SydGen C C & 7 #
SydGen Forever Lady 4087
Miss Blackcap Ellston J2
TC Gridiron 258 #
Miss Blackcap Ellston D154 #
Miss Blackcap Ellston A269
EPDs current as of 11/23/21
Hoover No Doubt was the $67,500 top-selling bull in our 2015 auction, and became the top-selling bull in our 92-year history at Hoover Angus!  No Doubt is alive and well in California, and semen is available through Alta Genetics.

No Doubt has been the buzz of the Angus breed – his progeny have met the market's demands for width of base, superior feet, and sound skeletons with real-life true performance that is not just genomic-based. No Doubt consistently transmits style and eye appeal with an uncommon amount of meat and muscle.  Progeny have topped sales in all corners of the country!

With several calf crops now weaned, we can honestly say his calves easily rise to the top. A No Doubt son was the #1 adjusted weaning weight bull calf among 160 herd mates of the 2017 Hoover crop and the #1 adjusted weaning weight bull in our 2018 crop! Our 2020 crop is our best crop of No Doubts yet!

Backed by Bullseye and CC&7 – two of the highest proven bulls for Docility in the history of Docility EPD, the No Doubt progeny are unquestionably breed leaders for this important trait!

Daughters in production offer a notch more frame and superior udder shape, attachment, and teat size. They are calm females to work with and average a 100 WR on their progeny.

A No Doubt son, Hoover Notary, topped our 2019 sale at $39,000, and a No Doubt son was the 2nd top-selling bull of our 2018 sale. Three of the top 5 selling bulls in our 2019 sale, all over $25,000, were sired by No Doubt.

No Doubt was a hunk that turned in an adjusted 1540 pound yearling weight, ratio 113 to be the #1 adjusted yearling weight bull in our sale! He also scanned a 3.91 IMF, ratio 108, and tied as the top scanning ribeye bull (among 81 yearlings) with a 17.3" ribeye, ratio 114!

Donor dam J2 was the lead-off, $20,000 top-selling open heifer from our 2011 auction selling to KDS Angus. Now owned by Bullseye Angus, 7 Oaks Angus, Reverse Rocking R Ranch, and GMC Genetics, J2 hit her financial stride eight years of age, generating nearly a quarter million dollars of revenue in a 12 month period for her new owners!

J2 was the 4th top weaning weight heifer calf of her crop at 755 pounds, WR 123. She went on to post an 1104 pound yearling weight, YR 116. She scanned a 5.46 IMF, ratio 107 and a 15.4" ribeye (5.7" above breed average), ratio 126.

When we sold J2, we retained one flush from this female, and had five live calves born in 2014. Only one was a bull, No Doubt. He and his four flush sisters averaged a 108 WR in proper contemporary groups, all with registered recipients. The 4 sisters had an average 774 pound weaning weight. The top one at 850 pounds was the #1 weaning weight female of the entire heifer crop (ET and non-ET)! Even more amazing is that she was raised by a 12 year-old recip! Other flush sisters were the 3rd and 5th top adjusted weaning weight ET heifers.

J2 is a 10th generation Hoover Angus bred, born, and raised Blackcap Ellston female.

Pathfinder grandam D154 is one of our stoutest cows – she is gorgeous! She records 6-110 wean ratio. Two daughters work in the herd. One daughter, G278, was the 3rd top weaning weight heifer of her crop at 748 pounds, WR 127. G278 now records 5-107 WR, but this excludes her twin heifers that ratioed 119 and 116 to be the #2 and #7 top weaning weight heifers of their crop, respectively. One of these was the $30,000 top-selling female in our 2013 auction, the other works in our herd and is the dam of the $43,000 Hoover Hawkeye.  G278's sons were the 2nd top-selling bull in our 2011 auction at $17,000 and the 4th top-selling bull of our 2016 auction at $25,500.