BACK TO SIRE LISTING
Mogck Bullseye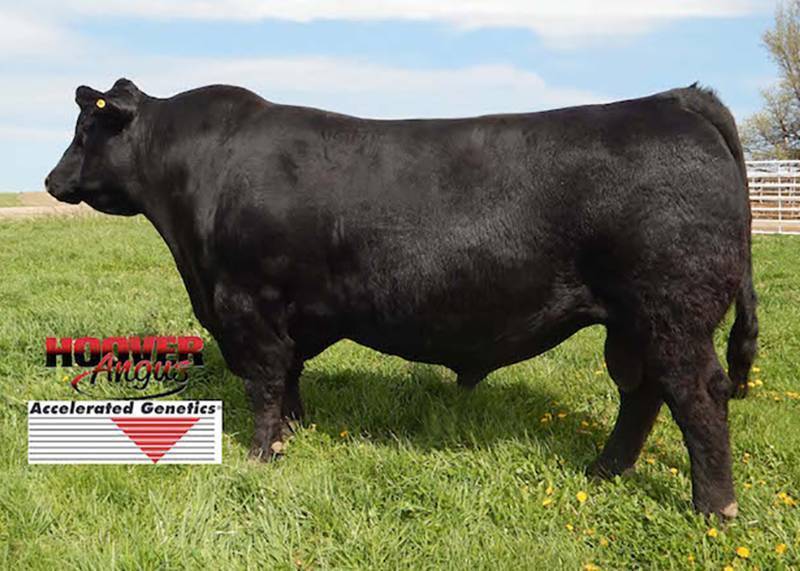 S A F Focus of E R #
Mytty In Focus #
Mytty Countess 906
MOGCK Sure Shot
#
S A V Pay Day 3261
Mogck Black Lass 2065
Mogck Black Lass C2502
Sitz Alliance 6595 #
K C F Bennett Coalition SCC #
Pleasant Pill of Conanga #
Mogck Mary 1255
Marcys 95 734 6 #
Mogck Mary C 1757
Mogck Mary C 1234
EPDs current as of 10/12/20
Repeat buyers at Hoover Angus come for docility, added frame, and high growth.  Bullseye progeny hit the target!  No current sire with Bullseye's accuracy or higher can match or exceed his tremendous Docility EPD!
Bullseye progeny have been phenomenal growth and power cattle. Starting with his first calf crop in 2013, Bullseye sons were the #1 indexing sire group. They have continued to be top performance cattle.  Bullseye's growth EPDs have stayed high with over 2800 progeny reported in 215 herds.  
Bullseye progeny have been well accepted at auction.  As an example, 20 yearling sons averaged $10,080 in our 2014 auction.  In our 2015 auction, 32 Bullseye sons averaged $10,609! Bullseye sons are very popular because of their thickness, muscle, and shape.  For those frustrated with Angus genetics becoming too low of birth weight, too frail made and small, look to Bullseye to put the beef, growth, and frame back in cattle.
Daughters are highly productive – over 850 daughters in 190 herds have an average 102 WR on progeny!
At Hoover Angus, we know that "Good bulls don't cost, good bulls pay", and we partnered with KDS Angus and Accelerated Genetics to bid against several of the largest and most prestigious Angus breeders in the country to have the winning bid at $192,000 when Bullseye sold. He is one of the few young bulls of the breed that sold a significant amount of semen before he came to auction.
Bullseye was the #1 yearling weight and #2 weaning weight bull of the Mogck crop, and scanned the 2nd biggest ribeye and 2nd highest IMF! He aced every challenge that was given to him, earning him the name "Bullseye"! He is a powerhouse individual with tremendous growth traits and a 6.5 frame. He is very gentle.
Semen is available through Hoover Angus at $40/unit, $40/certificate.  Contact Landi at 641-344-7684 for more information.