BACK TO SIRE LISTING
HOOVER TOP NOTCH P409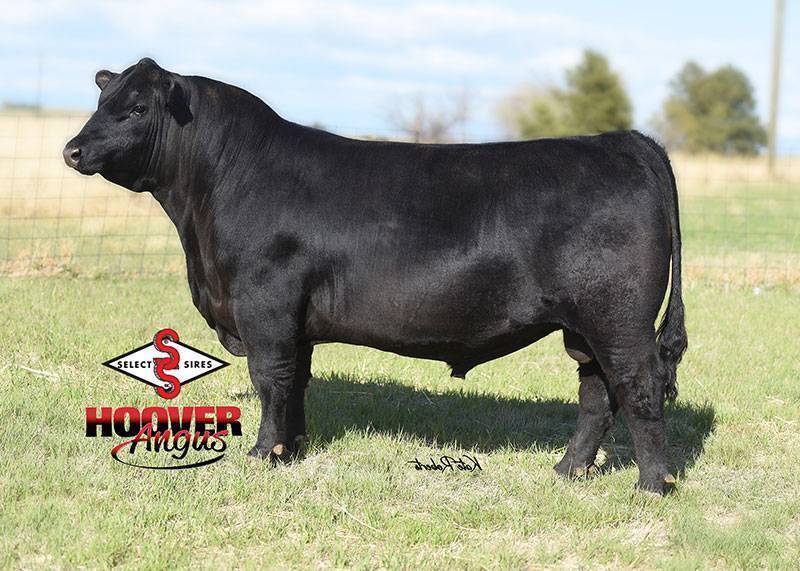 Sitz Upward 307R #
Bruns Uppercut 610
Dakota Ann 565 BAF
Bruns Top Cut 373
Mohnen Brushpopper 295 #
Dakota Miss 669 Baf #
Dakota Miss 1785 Baf #
Connealy Mentor 7374 #
Connealy Counselor #+
Jaze of Conanga 234
Erica of Ellston L5
SydGen C C & 7 #
Erica of Ellston G366 #
Erica of Ellston D184

EPDs current as of 3/16/20
Top Notch was the $33,000 top-selling bull in our 2017 auction selling to Select Sires, Baldridge Bros., and Ray Sikes. He came to auction with a phenomenal set of credentials, and a phenotype to match. Top Notch will add some guts & girth to his daughters – save every one he makes! Top Notch was the #1 $Weaning bull of the entire auction of 112 bulls.  Top Notch was the #1 adjusted yearling weight ET bull of his crop.
Top Notch was a member of the "Fab Five", the set of 5 flush brothers that averaged $23,800! This flush led off our sale, and for good reason. Two of these flush brothers were selected by bull studs. Top Notch was noted by many as the neatest phenotype bull of the flush.
Top Notch's first calves were weaned in the fall of 2018, and the 2nd top weaning weight bull of the Hoover crop was sired by him!  A Top Notch heifer calf of this crop was the 7th top weaning weight heifer calf of the crop.  From only 9 calves sired by Top Notch in this crop, they did extremely well and were one of the top ratioing sire groups.  We are very pleased with the phenotype of these calves.
Donor dam L5 is one of our favorites. L5's first daughter in production weaned the 9th top weaning weight heifer of her crop. L5 records 3-106 WR on her natural progeny and 17-104 IMF ratio and 17-101 ribeye ratio. L5 weaned an 842 pound heifer calf at Baldridges to ratio 107 in a small contemporary group of donor cows' calves!
L5 was the standout heifer of her crop – she was the #1 adjusted weaning weight, #1 adjusted yearling weight heifer at 779 lbs., WR 116, YW 1160 lbs., YR 114. She turned in a superior scan with a 7.05 IMF, ratio 119, and a 14.6" ribeye, ratio 119. Among 88 contemporaries, she had the 5th largest ribeye scan. Breed average ribeye scan for heifers is currently 9.73".
A full brother to L5 is Hoover Counselor N29, the $39,000 sire working for Select Sires.

Pathfinder grandam G366 – I could write a book on this cow! She is truly one of the most incredible females ever bred on our 92 year-old Angus farm. She has grossed over $200,000 in registered progeny and embryo sales to be our #1 income-producing cow in history. G366 has brought a total of 10 featured progeny to auction and her 16 progeny have averaged over $12,000.  She records 8-98 BWR and 8-107 WR with a 365 day calving interval on those 8 progeny. That includes stealing flushes four different years!

Several of G366's progeny have been among the top weaning weight calves of their crop. L5, mentioned above, was the #1 WW heifer of her crop. The very next year, G366 repeated this accomplishment with another #1 WW daughter. To make it three years running, an ET son claimed #1 WW honors over the entire crop (ET and non-ET progeny) in 2015!
A daughter of G366 is the #1 indexing cow of the entire Hoover herd, one is the 6th top indexing cow, and two granddaughters are the 7th and 14th top indexing cows.  G366's five daughters in the herd have an average 108 WR on their progeny!  Three daughters of G366 have earned Pathfinder honors.  G366 daughters produced the two lead-off bred heifers in our 2018 auction, selling for $48,000 and $22,000!
G366's great grandam V65 is the grandam of Hoover Dam.  This Erica cow family has put 8 bulls in 6 different AI studs.
Top Notch is being used AI on cows and heifers at Hoover Angus. Semen is available through Select Sires at $25/Straw, $40/Certificate.