BACK TO SIRE LISTING
Baldridge 38 Special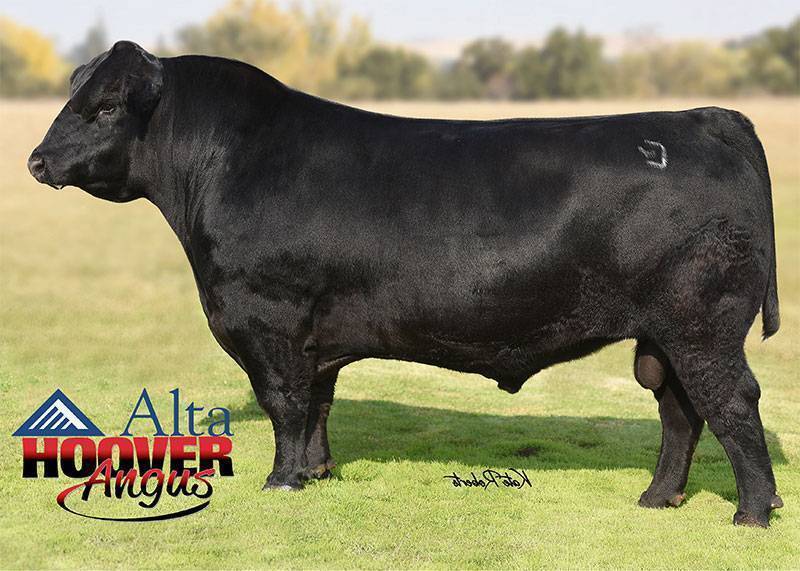 Basin Franchise P142 #
EF Complement 8088 #
EF Everelda Entense 6117 +
EF Commando 1366
B/R Ambush 28 #+
Riverbend Young Lucy W1470
Riverbend Young Lucy T1080 +
Sitz Upward 307R #
Styles Upgrade J59 #
Plainview Lassie 71B
Baldridge Isabel Y69
Baldridge Kaboom K243 KCF #
Baldridge Isabel T935 +
Baldridge Isabel P4527 +
EPDs current as of 3/16/20
The marbling king at Hoover Angus with frame, performance, and eye appeal!  Ultrasound data from the spring 2018 Hoover Angus heifer crop showed that the top FOUR marbling heifers among 100+ heifers were all sired by Baldridge 38 Special! This sire now has over 200 progeny with a whopping 111 IMF ratio and 100 ribeye ratio (in a herd known for big ribeyes)!

38 Special sons were crowd favorites in our February 2018 auction, where 18 yearling sons averaged $9806, over $3300 above the yearling bull sale average! In our 2019 sale, 29 sons averaged $8620.

In the spring 2018 Hoover crop, both the #1 adjusted weaning weight bull and #1 adjusted weaning weight heifer (non-ET) were sired by 38 Special.  There were a total of 6 of the top 10 adjusted weaning weight bulls that were sired by 38 Special, and the exact same was true for top weaning weight heifers – 6 of the top 10!

In 38 Special's first calf crop in 2017, a heifer calf was the #1 adjusted weaning weight heifer of the crop at 872 pounds, which is the heaviest adjusted weaning weight of any female in Hoover history! Another heifer was the 4th top weaning weight heifer. 38 Special sons were the 2nd and 4th top weaning weight bull calves. 38 Special calves have added frame and muscle.  Many heifers have calved successfully to 38 Special, and we do recommend him as a safe choice for use on heifers.

38 Special was our pick of the bulls in the record 2016 Baldridge Bros. Sale, where 38 Special and his 6 flush brothers averaged $58,928. 38 Special was the 3rd top-selling bull of the event at $100,000, and is co-owned with Alta Genetics. Sire Commando produced 20 sons in the 2016 Baldridge sale that averaged $35,275! There is power in the blood!

38 Special was definitely the power, high performance bull of his flush and a standout with added frame in the Baldridge offering. He is a unique blend of his sire's calving ease and his dam's big frame and power. Viewing the Y69 donor cow prior to purchasing 38 Special, we found her to be everything Jud promised. She is the most influential cow in Baldridge Bros. history, and is having a large impact on the nation's cow herd. As her sons are being used heavily now across the breed, Y69 will be remembered as one of the breed's great ones! She is one of the top income-producing cows in the history of the breed.

38 Special's individual performance data:
BW 83 pounds
WW 859 lbs., WR 111
YW 1523 lbs., YR 112
Adjusted yearling scrotal 39.53 cm
IMF 6.99, ratio 104
RE 14.6", ratio 97
Yearling HH 53", Frame Score 7.0

Semen is available through Alta Genetics at 866-266-ALTA for $30/unit, $33/certificate.