BACK TO SIRE LISTING
Hoover Top Cut S1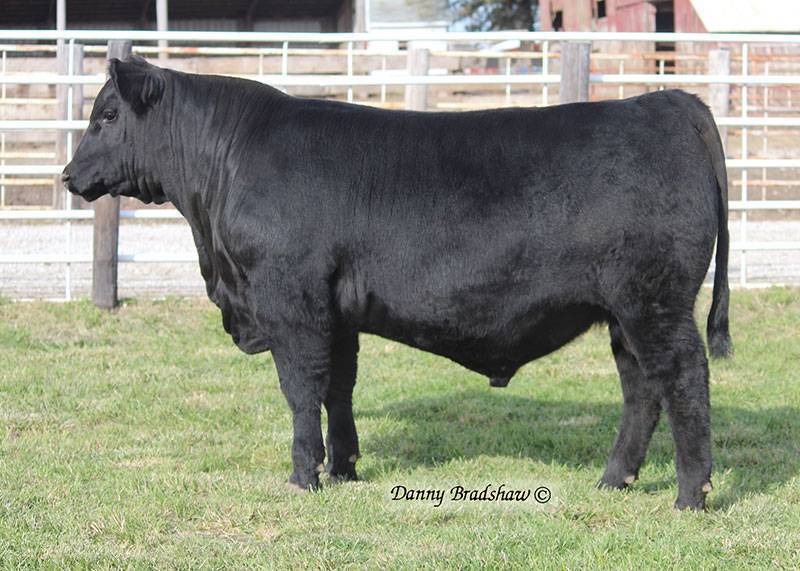 Sitz Upward 307R #
Bruns Uppercut 610 *
Dakota Ann 565 BAF
Bruns Top Cut 373
*
Mohnen Brushpopper 295 #*
Dakota Miss 669 Baf #
Dakota Miss 1785 Baf # 
SydGen C C & 7 #*
Hoover Dam #*
Erica of Ellston C124 #
Miss Erica Ellston L102 #
ALC Titanic V13T
Miss Erica Ellston J118
Miss Erica Ellston E298 #
EPDs current as of 10/02/20
This herd sire has been used in the Hoover and Mickey Angus herds, and has done well in both!  Mickeys report that the S1 calves perform right along with the AI-sired calves, and are phenotypically very nice.  S1 is a rock solid, super thick bull siring calves with nice muscle, excellent depth of rib, structural soundness, and eye appeal.  His first daughters will sell as bred heifers in our 2021 production sale, and they are some of the nicest heifers in the pen!  They are deep, broody females with a beautiful cow look.
S1 is from an exemplary Hoover Dam daughter that records a huge birth to weaning spread of 7-91 BWR, 7-107 WR, 5-102 YR, 5-108 IMF ratio and 5-101 Ribeye ratio.  She has a 363 day calving interval on her 7 progeny, and has achieved Pathfinder honors.  L102's four sons to come to auction have averaged a $7700 selling price.  Three of her sons have been among the top 10 adjusted weaning weight calves of the Hoover crop, and three of her sons work in registered Angus herds.
L102 is a one of the most perfect uddered cows on the farm, and has nice manners at calving time.  She is a stylish cow that visitors to the farm easily find on pasture tours!  She comes from a cow line that has been extremely productive through many, many generations.  L102 is the 11th consecutive generation Miss Erica Ellston female to be bred, born, and raised in Ellston, Iowa.