BACK TO SIRE LISTING
Hoover Elation M123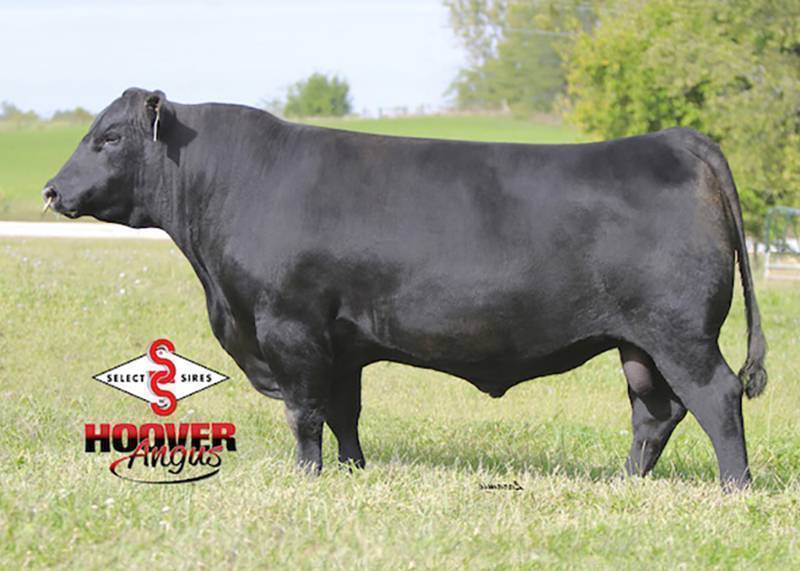 Gardens Expedition #
Basin Expedition R156 +
Basin Primrose Lady 5287
Basin Excitement
#
Vermilion Payweight J847 #
Basin Lady S532 AK
Basin Lady 306E
S A F Connection #+
SydGen C C & 7 #
SydGen Forever Lady 4087
Pride of Ellston K68 #+
TC Gridiron 258 #
Pride of Ellston D58 #
G G Pride 9232 #
EPDs current as of 3/16/20
Elation was the $25,000 second top-selling bull in our 2014 auction selling to Select Sires. He is a calving ease deluxe package with a standout phenotype and outcross pedigree for much of the Angus breed. Dr. Aaron Arnett who selected Elation states, "We selected Hoover Elation because he offers outcross calving ease genetics with no sacrifices in performance and phenotype and we like doing business with reputable breeders that can be trusted to submit accurate records and stand behind their product."
Elation's calves are true low birth weight, calving ease calves. He is a "sleep tight all night" heifer bull. A beautiful daughter in his second crop weaned at 765 pounds to be the 10th top weaning weight calf of her crop at Hoover Angus.
Elation is deep bodied with good capacity and has a lot of muscle in his rear. He is correct made and moves easy. He's thick, smooth, and attractive. His Docility EPD in the top percentiles of the breed is very telling of the excellent dispositions we find in his progeny.
Dam K68 was a first calf heifer with Elation, and she now records 6-99 BWR, 6-105 WR and 5-100 YR with a 366 day calving interval. Three full sisters to K68 work in the herd, one has earned Pathfinder honors. A low birth weight, attractive-made full brother to Elation sold in our 2015 auction to Brenner Angus of Colorado for $9000.
Pathfinder grandam D58 has served as a donor for us and maintains a perfect 365 day calving interval!
Great grandam also earned Pathfinder honors.
Semen $22/unit, Certificates $40.
BW 60 lbs.
WW 780 lbs., WR 103
YW 1497 lbs., YR 110 - 4th top YW bull of 2014 production sale
IMF 4.73, ratio 116
Ribeye 16.7", ratio 104