BACK TO SIRE LISTING
BALDRIDGE CHAIRMAN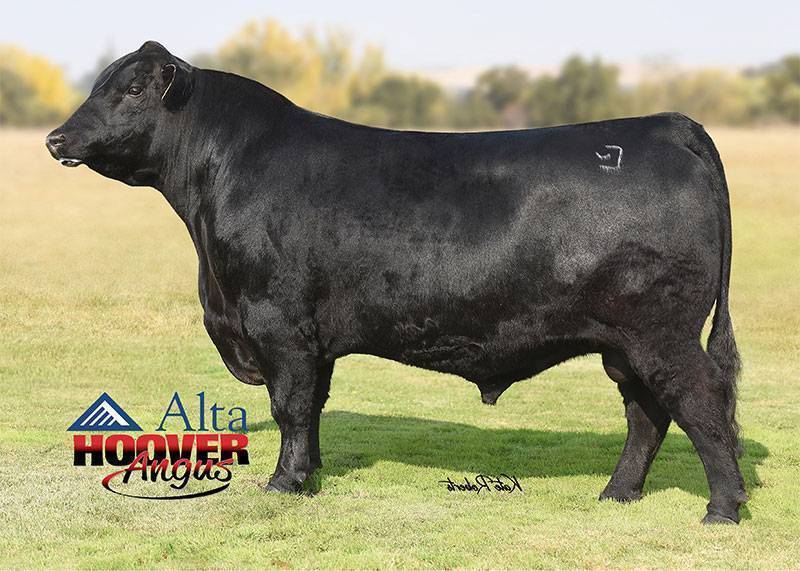 Connealy Tobin
Connealy Confidence 0100 #
Becka Gala of Conanga 8281
Fortunes Conquest 224
S A V 004 Traveler 4412 +
Fortunes 4412 Ethelda 742
Fortunes 1I2 Ethelda 423
C R A Bextor 872 5205 608 #
G A R Prophet +#
G A R Objective 1885 +
Baldridge Isabel B061 +
Styles Upgrade J59 #
Baldridge Isabel Y69
Baldridge Isabel T935 +
EPDs current as of 3/16/20
Chairman is a deep bodied, massive type bull selected for $55,000 from the 2017 Baldridge Bros. sale with Alta Genetics. Chairman was definitely a favorite of Jud's in their sale, as he earned a painted picture in the Taft Building. Chairman was the #1 yearling weight bull of the auction. He is a loose-skinned, stylish bull that offers a tick more moderate frame than most Hoover cattle.
We are extremely impressed with Chairman progeny!  They are growthy cattle with more look and style than most.  Phenotypically, they were my favorite sire group in our 2018 crop.  Chairman has been used successfully on both cows and heifers at Hoover Angus.
We viewed Chairman's dam before purchasing Chairman, and found her to be an exceptional uddered young cow. She was a first calf heifer with Chairman, and is a full sister to Baldridge Beast Mode at Genex. Chairman's grandam is the tremendous Y69 donor cow, the dam of 38 Special and the 2017 Baldridge sale topper, Baldridge Colonel at $580,000.
Sire Conquest has been used successfully on over 1500 head of commercial first calf heifers in South Dakota. Conquest is long, thick, and sound with extra muscle and capacity.
BW 80 lbs.
WW 842 lbs., WR 113
YW 1442 lbs., YR 115
SC 42.85
Semen available through Alta Genetics for $25/unit, $33/Certificate.