2017 News
Congratulations to Borns Angus on selling coming 4 year-old Hoover Counselor N29 through their dispersal sale, 1/2 interest for $39,000 to Select Sires! Steve Borns originally purchased 2/3 interest in this bull through the 2015 Hoover sale for $23,000 as the second top-selling bull. N29 boasts CED, BW, WW, and YW EPDs in the top 10% of the breed to a $W top 3% and $B top 4%! With 25 genomic progeny and 26 progeny through AHIR with an average 98 BWR and 104 WR, N29 has a great start on his proof! N29 is a full brother to the Erica of Ellston L5 cow that now serves as a donor at Baldridge Bros. Numerous relatives to N29 and L5 sell in our February 6, 2018 sale!
Spring-born steers come to auction

Hoover Angus will be selling approximately 50 spring-born steer calves weighing from 500-700# at the Creston Livestock Auction on Wednesday, August 23, 2017. Steers have had identical vaccinations to our registered stock. Calves were weaned on July 28. Please contact Landi at 641-344-7684 for more information.
Hoover bulls sire Champion and Reserve Champion Pen of Three Steers at the 2017 Page County Fair!

Morgan Rope exhibited the Champion Pen with steers purchased from long-time Hoover customer Darrell Wagoner. Reserve Champion Pen belongs to Carlita McCoy, daughter of Dustin & Courtney McCoy, also long-time Hoover customers. Both Morgan and Carlita did an excellent job of finishing their steers, and had exhibits to be proud of!
TC Gridiron 258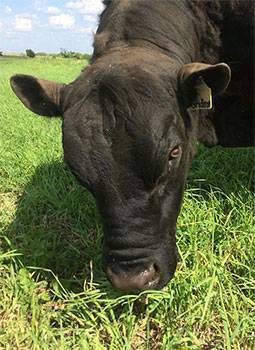 Yesterday we laid 15 year-old TC Gridiron 258 to rest at Hoover Angus. He was buried beside CC&7 north of our bull barn. For many years, Gridiron sons and daughters topped our sales, then when Gridiron daughters came into production, their progeny began to be our best sellers.
Gridiron daughters are some of our favorite cows ever to be in production at Hoover Angus - they are stout, beefy cows - just what a model Angus cow should look like. Four cows at Hoover Angus have grossed over $100,000 in progeny sales, and two of those are Gridiron daughters: Hoover Dam's mother, and Inspiration's mother.
Of the 15 Hoover-prefix bulls currently in bull studs, 9 of them trace back to Gridiron, including Hoover Dam who has been used on 4 continents and many foreign countries. Gridiron was truly one of the "great ones", and his excellence is carried on in the Hoover herd today, as well as the vast majority of our customers' herds!
Rest in peace, Gridiron, you helped put Hoover Angus on the map!
Kurt Kiburz Benefit Meal & Auction
5th Generation "Hoover" Born!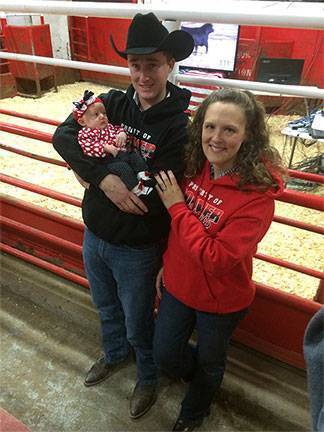 Andrew & Landi Livingston welcomed Gwen Linda Livingston on December 30, 2016. She was 7 pounds, 1 ounce, and 19 1/4" long. Gwen is the 5th generation of Hoover Angus, and the 7th generation Hoover to live in Southern Iowa. Hoover Ancestors homesteaded in Union county in 1856. Gwen is pictured here with Andrew & Landi on sale day 2017
Second Generation "Hoover" Passes Away
Barb (Hoover) Kiburz passed away on March 1, 2017 at Greater Regional Hospice Home in Creston, Iowa. Pictured here is Landi, Barb, Gwen, and Joy the day Gwen was born. Barb was proud of her family's Angus herd, started by her father, Walt Hoover. She was also excited that Gwen brings the possibility of yet another generation of Hoover Angus.
Selling 13 Fall-Born Steer Calves
Hoover Angus will be selling 13 fall-born steer calves weighing approximately 650# at the Creston Livestock Auction on April 5, 2017. Steers have had identical vaccinations to our registered stock. Calves were weaned on March 5. Please contact Landi at 641-344-7684 for more information.
2017 Pathfinder Report
Hoover Angus is home to 59 Pathfinder cows in the 2017 Pathfinder Report!
6 Hoover Angus sires were included in the report: SydGen CC&7, Hoover Dam, TC Gridiron 258, Basin Excitement, Connealy Reward, and SA Neutron 377. Excitement and Reward were new additions to this year's list.
As a 9 year-old bull, Hoover Dam once again leads-off the 2017 ORIgen Sire Directory!
Click Here!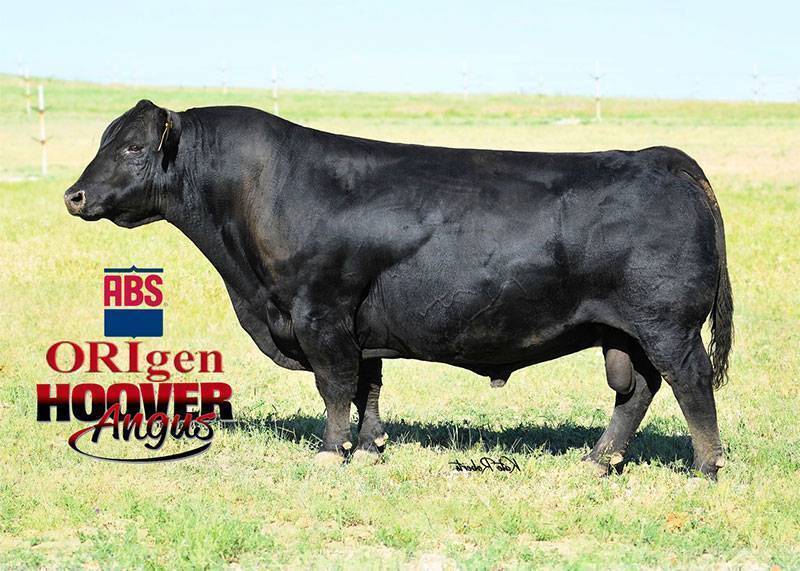 2017 Hoover Angus Sale catalog now available for download!

Click Here!
Videos for February 7, 2017 Hoover Angus Sale now online!
Hoover Embryos Sell in Foundation Female Sale!
Hoover Angus will be selling a package of 6 embryos in the 2017 National Western Foundation Female Sale on Friday, January 13, 2017. These Black Beauty of Ellston L168 X Baldridge 38 Special embryos are a unique mating and outcross pedigree for the Angus breed. Black Beauty of Ellston L168 is the dam of our 2016 sale-topping bull at $31,000, Hoover Cyclone. For more information, CLICK HERE