BACK TO SIRE LISTING
SydGen Sizzle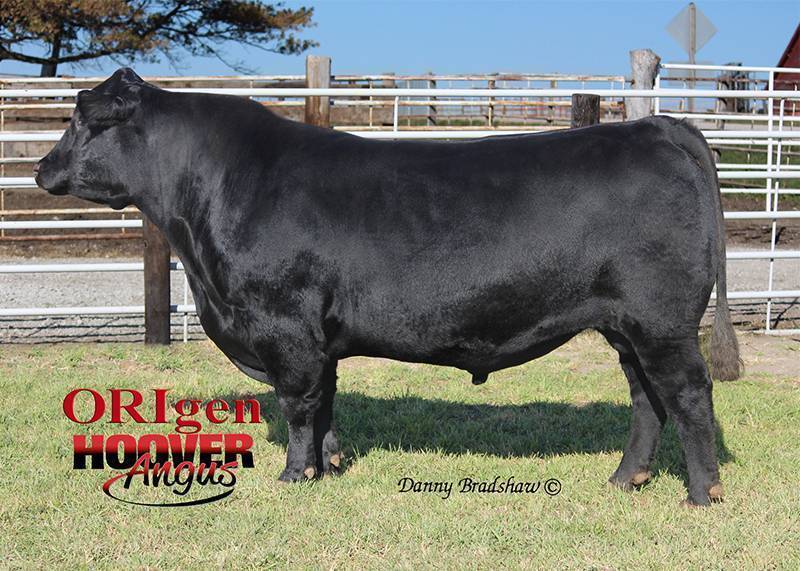 Connealy All Around #
Connealy Heat 0243 #
Bunty Lanna of Conanga 556
Connealy Cool 39L
H S A F Bando 1961 #+
JMc Jeena Allie 8345 5399 #+
Jeena of Conanga 357
Hyline Right Time 338 #
Pine Ridge Hammer S322 #
Belmont Lady 9015 3313 #
WK Hazel 9201 +
S V F Bandolier
ALC Hazel L12L
Alc Hazel K14H #
EPDs current as of 3/16/20
Sizzle was the $30,000 co-top selling bull of the fall 2015 SydGen Sale. He is a slick haired, deep bodied, level topped bull with excellent scrotal development. He is a super long bodied bull to pack in extra pounds, which he has done. We were impressed how Sizzle held his condition during his first summer breeding season. He continually stays fleshy now as a mature bull. Sizzle's large Scrotal EPD is very much in line with his ability to transmit large scrotal size.
Sizzle's first calves were weaned in the fall of 2017, and there have been some standouts in every crop. A Sizzle son out of a first calf heifer was the 9th top weaning weight bull at 861 pounds in 2017. A standout heifer calf daughter was the 10th top weaning weight heifer. Sizzle generally gets the largest pasture of cows to clean-up each spring and fall.
Sizzle's first daughters in production are neat uddered and super slick haired.
Sizzle's dam that we viewed the morning of the SydGen sale records 4-108 WR, 3-106 YR, 4-100 IMF ratio and 4-100 ribeye ratio. She has entered the donor program at SydGen. Sizzle's grandam is the dam of ALC Big Eye D09N. Sizzle's sire, Cool, is a big-spread bull with outstanding carcass merit who was the #1 $B bull of the 2014 Connealy Angus sale.
BW 78 lbs.
WW 768 lbs., WR 108
YW 1501 lbs., YR 110
Adjusted Scrotal 41.77 cm
Yearling HH 51", Frame Score 6.4
IMF 4.87, ratio 87
RE 17.5", ratio 109
Semen $20, Certificates $40, available through the owners and ORIgen.