BACK TO SIRE LISTING
Moore Gold Mine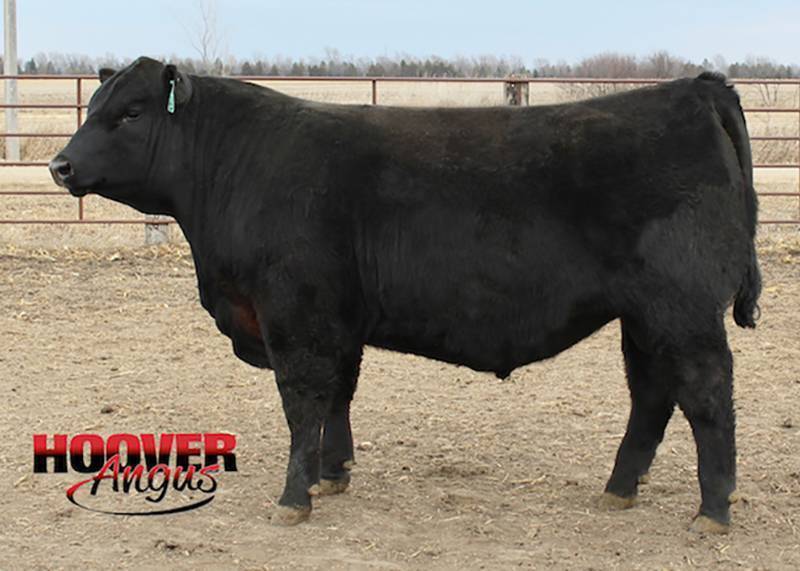 Mytty In Focus #
Lemar Dakota Gold 18T
Lemar Peggy 74R
Moore Gold 710
H S A F Bando 1961 #+
Moore Bando 1961 510 #
Moore 12-Leadtime 210
Connealy Onward #
Sitz Upward 307R #
Sitz Henrietta Pride 81M
Moore Upward 623
#
LCC Jet Service 6965K +
Moore Jet Service 918
55 Dividend of Moore 718
EPDs current as of 3/16/20
Gold Mine was our $12,000 selection from the 2015 Moore Angus sale in South Dakota. He is a really long-spined, large framed, correctly made, high performing bull. He is an eye-catching bull with excellent feet quality. We viewed Gold Mine and his dam prior to purchasing the bull.
Gold Mine weaned at 872 lbs., WR 109, YW 1613 lbs., YR 111, IMF 4.23, ratio 117, and ribeye 14.9", ratio 100.
As a yearling, Gold Mine was turned out with cows and settled his females in the early part of the breeding season and every single female was pregnant. He is a large scrotal bull that had a 42 cm scrotal at a year of age. Sons are consistently big scrotal bulls.
Gold Mine's first set of calves were definitely a high growth sire group. A standout Gold Mine son (John's favorite bull of our spring 2016 calf crop) was the 4th top weaning weight bull at 896 pounds! A daughter was the 7th top weaning weight heifer at 768 pounds.
Gold Mine daughters in production are heavy milking, yet pleasing udder quality cows with eye appeal and nice fleshing ability. They are some of our prettiest young cows.
Gold Mine is a son of Moore Gold, who sired the top yearling weight group of bulls as well as the top ADG sire group in the 2015 Moore sale. Gold Mine's dam was a first calf heifer with him, and had twins in the next year. She has a 363 day calving interval and now has earned Pathfinder honors.