BACK TO SIRE LISTING
Hoover Gatlin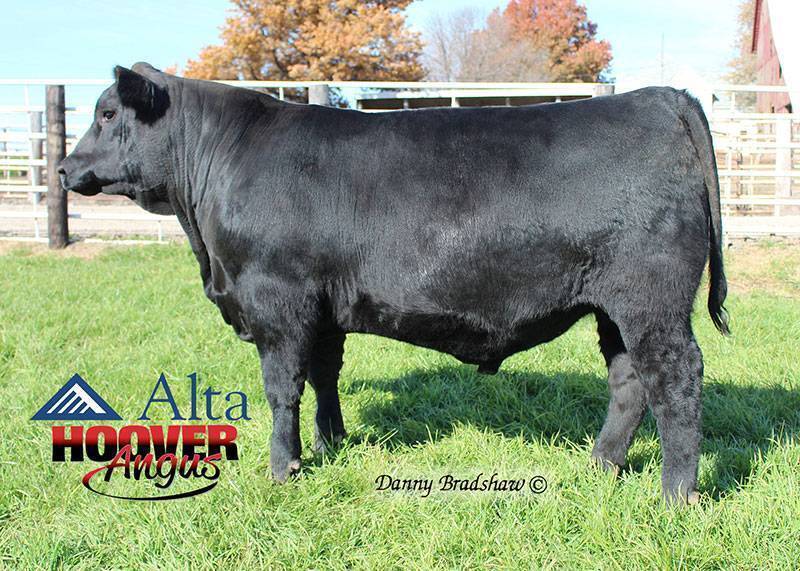 EF Complement 8088 #*
EF Commando 1366 *
Riverbend Young Lucy W1470
Baldridge 38 Special +*
Styles Upgrade J59 #*
Baldridge Isabel Y69 *
Baldridge Isabel T935 +
Connealy Consensus #*
Connealy Commander *
Gespa of Conanga 9380
Erica of Ellston P44 +*
Connealy Counselor #+*
Erica of Ellston L5 *
Erica of Ellston G366 #
EPDs current as of 3/16/20
Gatlin was the 4th top weaning weight bull of his crop at 847 pounds, and a standout phenotypically.  Gatlin had a 1407 pound YW, YR 112, 37.5 cm scrotal, IMF 4.48, ratio 140, ribeye 14.1", ratio 99.  He is big middled, super thick, stout, big quartered, and looks like his dam and grandam.  Better yet, he comes from one of the best cow families to ever grace the pastures in Southern Iowa. 
Gatlin was one of the top-selling bulls in our 2019 auction selling to Alta Genetics for $11,000.
Dam P44 is a stout, deep bodied female with a superior udder and a 345 day calving interval on her first three calves – the shortest in the entire herd. P44 also ties as the 7th top indexing cow of the herd with 3-110 WR! P44 entered the donor pen this spring. Her 2019 calf by Entice is an exceptional calf that will vying to be our 2020 lead-off bull!
P44 was the 3rd top adjusted weaning weight ET heifer of her crop and the #1 YW ET heifer.  P44 is a full sister to the $30,000 Hoover Ambition bull at Alta Genetics.  Ambition was the #1 adjusted weaning weight bull of our entire spring 2015 crop at 919 pounds. 
Grandam L5 now works as a donor cow for Baldridge Bros. in North Platte, Nebraska.  During her tenure here, she produced 6 sons averaging $24,850 and one daughter at $22,000.  L5's top son was the $33,000 Hoover Top Notch P409 selling to Select Sires, Baldridge Bros., and Ray Sikes.  A flush brother to Top Notch was selected by Accelerated Genetics and Hart Farms in the same sale, Hoover Cut Above P427.
L5's first year at Baldridges, she weaned an 842 pound heifer calf to ratio 107 in a small contemporary group of donor cow's calves!  This heifer went on to sell ½ interest in Denver for $35,000!  L5 now records 17-104 IMF ratio and 17-101 ribeye ratio.
L5 was the standout heifer of her crop – she was the #1 adjusted weaning weight, #1 adjusted yearling weight heifer at 779 lbs., WR 116, YW 1160 lbs., YR 114. She turned in a superior scan with a 7.05 IMF, ratio 119, and a 14.6" ribeye, ratio 119. Among 88 contemporaries, she had the 5th largest ribeye scan. Breed average ribeye scan for heifers is currently 9.77".
Two beautiful flush daughters of L5 by 38 Special have gone into the replacement herd – both settled first service AI, and have been admired by visitors to the farm.  One of these heifers was the #1 adjusted weaning and yearling weight heifer among the ET progeny of her crop, and the #1 IMF scanning female of the entire heifer crop.
A full brother to L5 now resides at Select Sires – Hoover Counselor N29 was originally sold through our 2015 auction for $23,000 for 2/3 interest to Steve Borns.  In the Borns Angus dispersal sale in December 2017, ½ interest in N29 sold for $39,000 to Select Sires!
Gatlin is a bull that can do it all – sire a stout, growthy set of feeder calves, and still have stout, beefy daughters with lots of forerib, capacity, and excellent udders.