BACK TO SIRE LISTING
Connealy Commander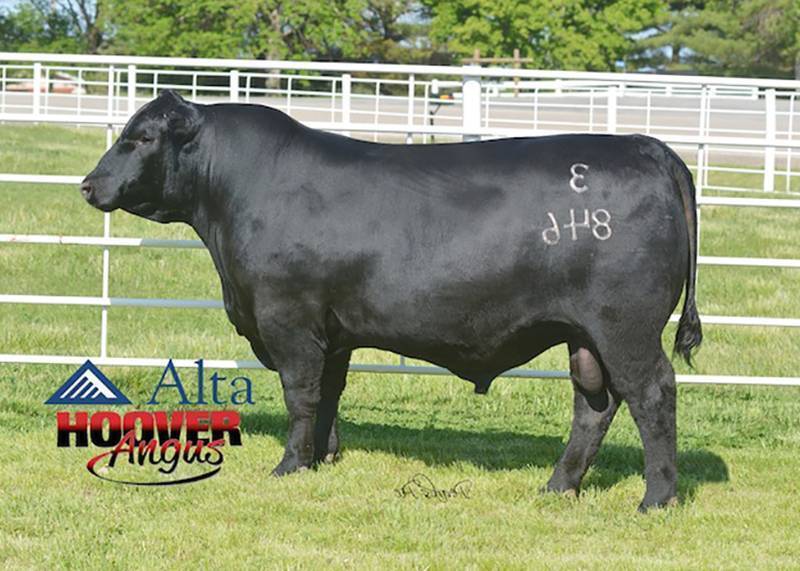 Sitz Alliance 6595 #
KMK Alliance 6595 I87 #
G A R Ext 916 #+
Connealy Consensus
#
Rito 6I6 of 4B20 6807 #
Blinda of Conanga 004
Blenda of Conanga 129
O C C Emblazon 854E #+
Rito 6EMA of 4L3 Emblazon #
Rita 4L3 of 2536 208 +
Gespa of Conanga 9380
Millers Bullseye J373 #
Gossipa of Conanga 787
Cossipana of Conanga 788
EPDs current as of 3/16/20
Commander sons were the top-selling sire group in the 2016 Hoover Angus sale averaging $11,469, with four Commander sons over $10,000! These bulls earned this position as the top-selling group, as they are extremely stout cattle with added frame, muscle, and hind quarter. The second top-selling bull of the auction, Hoover Ambition was a Commander son selling for $30,000. 
Every calf crop at Hoover Angus sees tremendous growthy Commander calves.  In the spring 2018 calf crop at Hoover Angus, the Commander sons and daughters were the most consistently high weaning weight sire group.  Commander heifer calves in the spring 2017 Hoover crop were the 6th and 9th top weaning weight heifers, and sons were the 3rd, 7th and 10th top weaning weight bulls.  Commander sired the top ratioing sire group in both the bull and heifer calves in our 2015 spring calf crop and repeated that success in the 2016 heifer crop. Commander progeny dominated the tops of the weaning weight charts in the spring 2016 crops, with the #1 and #2 adjusted weaning weight bulls being sired by Commander, as well as three of the top five weaning weight heifers!
Commander daughters are making nice young cows with excellent udders.  Daughters have an average 102 wean ratio on their progeny in 9 herds.
Commander was the $100,000 selection of Hoover Angus, KDS Angus, and Alta Genetics in the 2014 Connealy Angus Sale. This powerhouse bull was the top selling bull in Connealy's record event. Commander was the top pick among 500+ bulls in Whitman, Nebraska for the Hoover family, after seeing the mothers of their top 5 bull picks in the Connealy offering. Landi notes, "Commander offers an excellent phenotype and thickness with a great set of feet and legs. After viewing his dam that records 5-96 BWR and 5-103 WR, he easily became the bull of choice. His dam is a very easy fleshing, excellent uddered, pretty fronted female."
Commander overpowered the other bulls in his pen, and posted an impressive 877 pound weaning weight, ratio 119, and a 1514 pound yearling weight, ratio 121. His yearling weight was nearly 100 pounds more than the next highest performing Consensus son! Commander was the 6th heaviest adjusted weaning weight bull among nearly 500 bulls in his calf crop, and had the 2nd highest yearling weight among 368 bulls!
Commander semen is available through Alta Beef at 866-266-ALTA. Semen $25, Certificates $33.