BACK TO SIRE LISTING
SydGen C C & 7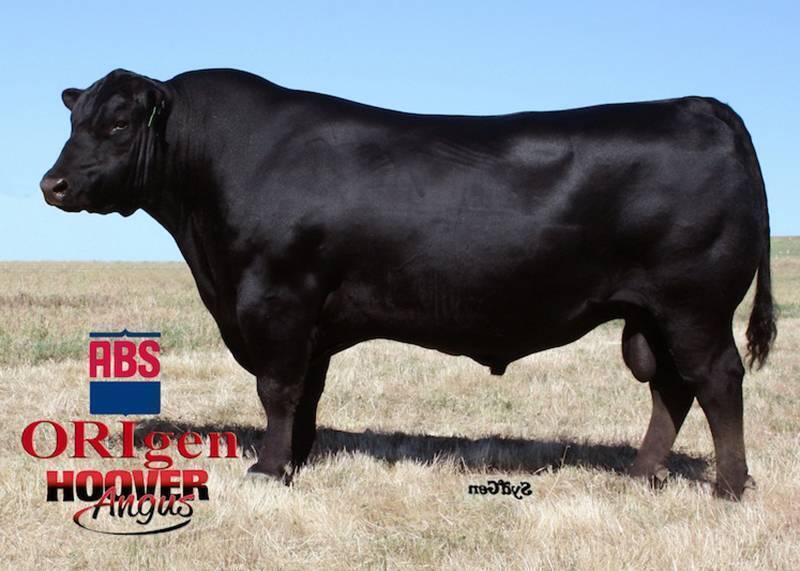 Traveler 124 G D A R #
SVF Gdar 216 LTD #+
G D A R Forever Lady 718 +
S A F Connection #+
Bon View Bando 598 #
S A F Royal Queen 5084 +
S A F Royal Queen 9022
Bon View New Design 1407 #
SydGen 1407 Corona 2016 #
V N A R Perfection 142F 180K
SydGen Forever Lady 4087

S A F Neutron #+
S A F Forever Lady 8292 +
S A F Forever Lady 5138+
EPDs current as of 3/16/20
The breed's docility legend now has over 8500 progeny recorded in over 1100 herds. CC&7 was the 4th top sire of the Angus breed for progeny registrations in 2012!
CC&7 sons have been at the top of the sale order for many years at Hoover Angus, and have been the top-selling sire group many times. One of the top selling bulls in our history, Hoover Inspiration, was a CC&7 son that sold for $56,000 to Alta Genetics. CC&7's most famous son, Hoover Dam, has exceeded CC&7 in number of progeny though AHIR.
The following Hoover-bred bulls in bull studs have CC&7 influence in their pedigrees: Hoover Dam, Hoover No Doubt, Hoover Hawkeye, Hoover Top Notch, Hoover Cut Above, Hoover Quintain, Hoover Inspiration, Hoover Ambition, Hoover Emperor, Hoover Elation, Hoover Hercules, and Hoover Home Run.
CC&7 daughters are great cows to work with at calving time. They have nice udders – good udder attachment, level udders, and a small teat size.  Three years in a row, a CC&7 daughter weaned the #1 adjusted weaning weight heifer calf of the spring Hoover crop. In the Hoover cow herd, four of the top fifteen indexing cows are sired by CC&7, and an additional 6 are CC&7 granddaughters! A recent visitor to Hoover Angus that viewed the majority of the spring calving herd stated, "If I were to begin a new herd today, I would use CC&7 as my base."
CC&7's disposition is truly second-to-none, and we've coined the phrase the "CC&7 Effect" – when a certain percentage of the animals in a group are sired by CC&7, the temperament of the entire group is calmed. The more restless animals in a group become more docile because of their docile CC&7 contemporaries. This is a testament to CC&7's position as the longest standing top docility Angus bull in America!
CC&7's name: Connection, Corona, and all 7 females in his pedigree have either served as a SydGen donor or been the dam of a SydGen donor. Four more cows off the pedigree have also served as donors for Sydenstrickers. CC&7's dam sold 1/2 interest in the fall 2010 SydGen sale for $42,500, and is now the top valued donor at SydGen.
CC&7 was the #1 adjusted weaning weight bull and top selling bull in the fall 2006 Sydenstricker offering. CC&7 went on to post the top ADG at 3.92 lbs./day, ratio 124, the top Yearling Weight at 1,467 lbs., ratio 121, and the top Ribeye measurement at 17.3", ratio 130.
Continuing the tradition of fertility established by his popular sire, CC&7 posted an adjusted scrotal measurement of 40.1 cm, and froze 127 units of high-quality semen at ORIgen on his first collection day, just 5 days past his first birthday. This came after being halter broke just two weeks before being on display nearly a week in Denver!
CC&7 will definitely leave a positive, long-lasting imprint in the Hoover cow herd and the herds of our customers!
Semen $75/Straw, $40/Certificate, available through the owners and ORIgen.
Progeny