BACK TO SIRE LISTING
Hoover ALL AMERICAN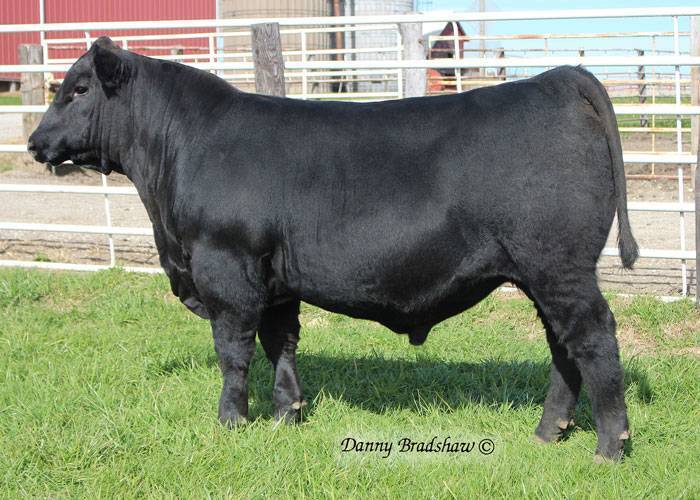 Sitz Upward 307R #
Bruns Uppercut 610 *
Dakota Ann 565 BAF
Bruns Top Cut 373
*
Mohnen Brushpopper 295 #
Dakota Miss 669 Baf #
Dakota Miss 1785 Baf #
SydGen C C & 7 # *
Hoover Dam # *
Erica of Ellston C124 #
Blueblood Lady Ellston M3
TC Friction 5130 #
Blueblood Lady Ellston H118 #
Blueblood Lady Ellston B305 #
EPDs current as of 3/16/20
Looking for a bull to make superior daughters? We believe All American's daughters will be the epitome of model Angus females! Most of this footnote is devoted to the tremendous cows found in the bottom half of All American's pedigree.
All American is a head-turner! He is thick, stout, meaty, and nice through his front. He is a stylish, powerful bull with a 40.2 adjusted yearling scrotal. All American was a super low birth weight bull at 61 pounds that weaned at 748 pounds, YW 1350 pounds, and scanned a whopping 16.7" ribeye – 1.28 square inches per 100 pounds of scan weight!
Dam M3 is from a highly fertile, productive cow line – she is a 17th generation female to be bred, born, and in production at Hoover Angus! Few cow families in America have been in one location under the same family's management for that long! She is a superior uddered cow with 5-105 WR and a 359 day calving interval.
M3 entered the donor pen in 2018, after producing the $39,000 top-selling bull in our 2018 auction to Don Dixon of Eagle Hill Farms. This bull, Hoover 38 Special S4, was the 2nd top weaning weight, 5th top yearling weight, #1 ribeye scanning bull of his crop! He was born 11 days early, and certainly suitable for use on heifers.
M3's first daughter tied as the 3rd top weaning weight heifer of her crop, and is now a successful young cow in the herd. M3's first son works for repeat customer Clay Howerton. He was an impressive bull that is a full brother to All American.
Pathfinder grandam H118 also has a short calving interval on her 8 calves at 360 days. You know a cow is a good one when six sons can average nearly $10,000! Her sons work for Mike Grimm, Hollis Dodge, Chris Nelson, Jeff Bellamy, John Zutavern, and Ben Lock Farms in Canada. Mike's bull was the 2nd top IMF scanning bull in our 2017 auction, and Jeff's bull was the 8th top weaning weight bull of his crop. John's bull was a photo feature, and Ben Lock Farm's bull was one of the top selling bulls of our 2018 auction.
Pathfinder great grandam B305 has been retired from the herd, but was one of my favorites. She was a very pretty cow, with a beautiful udder, and she could be counted on to bring in a good calf every single year. She ended her career with a whopping three Pathfinder daughters – an exceptionally rare feat! B305 had 13-106 WR and a 363 day calving interval.
This bull has a history very rich in great females! I can remember 5th, 6th, 7th, and 8th generation dams, and they were all superior females. Save every daughter that All American produces! They will be stylish, yet hard working, nice uddered females.