BACK TO SIRE LISTING
Hoover 44 Mag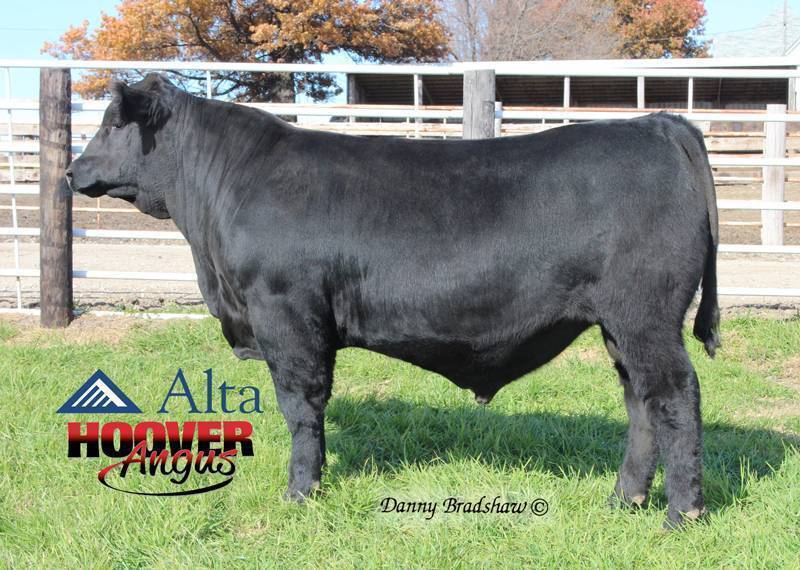 EF Complement 8088 #*
EF Commando 1366 *
Riverbend Young Lucy W1470
Baldridge 38 Special +*
Styles Upgrade J59 #*
Baldridge Isabel Y69 *
Baldridge Isabel T935 +
Famous 7001 #
Roth Famous 1006 #
Roth Formera 9199
Queen of Ellston C50 #
Great Western of Verola 478
Hawley West Girl 227
Lickings Eldorado 371 806
EPDs current as of 3/16/20
> Video of 44 Mag's dam - 4 months shy of 16 years of age



44 Mag was the 2nd top weaning weight ET bull of his crop! T28 is a super long bull that is extended in his front and really stout.  He is a big scrotal bull.  Expect him to sire feeder calves that have the frame appropriate for being able to achieve high rate of gain.  Cattle feeders will like their type and kind.
44 Mag was the sixth top-selling bull at $24,000 in our 2019 auction to Alta Genetics and Diamond J Angus Ranch.
Pathfinder and donor dam C50 is likely one of the top 5 cows ever in production at Hoover Angus.  C50 is 15 years old and she is still walking just as smooth and easy as a young cow, still has an exceptional udder, and fertility second-to-none.  She records 13-100 BWR, 13-106 WR, and 11-103 YR on her natural progeny.  We have stolen 6 flushes from C50 and she has a 363 day calving interval on 13 progeny!  In the 2019 Pathfinder report, C50 was our oldest Pathfinder on the list.  C50 is a super stout, powerful, showy, bigger framed cow with exceptional length of body.
C50 has two Pathfinder daughters, H115 and K57.  H115 serves as a working donor, and her sons were the lead-off bulls in our 2019 catalog.  H115's top son, Hoover Longevity, sold for $26,000.  C50 had three daughters that were photo features in our past sales.  C50's four flush daughters from 2016 all went into the replacement herd last spring, and all ratioed 101 or better on their first calf. 
Eight of C50's sons have been photo features in our past sales, and one was the Lot 1 bull of our 2012 sale.  Three of C50's sons or daughters were among the top 10 adjusted weaning weight calves of their respective crops, and several ET progeny were at the very top of their crops too – like her 2016 flush of bulls that were the #1, #2, and #3 top weaning weight ET calves of their crops!  Her progeny work in 7 different states.
C50 is one of just 9 cows in the history of Hoover Angus to have grossed over $100,000 on registered progeny sales. 
C50 had exceptional performance herself – WW 765 lbs., WR 115, YW 1050 lbs., YR 109.  She scanned a whopping 13.2" ribeye to ratio 112.  She was the 6th top adjusted weaning weight heifer of her crop.
Grandam 227 has been retired from the herd but recorded an amazing 13-113 WR and a 360 day calving interval at the end of her career! Five of her progeny were among the top 15 adjusted weaning weight calves of their respective crops, including a daughter that was the #1 weaning weight female of her crop.
44 Mag's individual performance:
BW 78 lbs.
WW 879 lbs., WR 113
YW 1476 lbs., YR 112
Scrotal 41 cm
IMF 3.63, ratio 100
Ribeye 14.4", ratio 101