BACK TO SIRE LISTING
Hoover 38 Special s4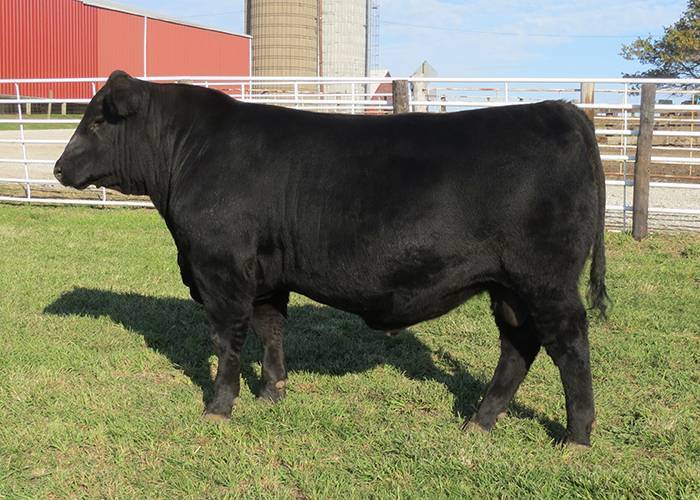 EF Complement 8088 # *
EF Commando 1366 *
Riverbend Young Lucy W1470
Baldridge 38 Special +
*
Styles Upgrade J59 # *
Baldridge Isabel Y69 *
Baldridge Isabel T935 +
SydGen C C & 7 # *
Hoover Dam # *
Erica of Ellston C124 #
Blueblood Lady Ellston M3
Blueblood Lady Ellston H118 #
Blueblood Lady Ellston B305 #
EPDs current as of 3/16/20
S4 was the $39,000 top-selling bull of our 2018 auction to Eagle Hill Farms in Lucas, Iowa.  This short gestation calf offers a great birth to weaning and yearling spread with an actual birth weight of only 72 pounds out of a mature cow.
S4 was the 2nd top adjusted weaning weight bull of his crop at 905 pounds, WR 116!  He posted a 1427 pound yearling weight, YR 110, and an adjusted 41.55 cm scrotal.  He scanned a 4.18 IMF, ratio 118, and a 17.2" ribeye, ratio 114.  He was the 5th top YW bull of his crop, and the #1 ribeye scanning bull.
S4 is a soft-made, easy fleshing, thick, deep sided bull that we predict to make superior females.  He is a little more moderate in his frame than most 38 Special progeny.  
When you think of an Angus momma cow, and what she should do, that is exactly what dam M3 does.  She is a superior uddered, good disposition, solid phenotype cow that raises a whale of a calf every year, starting with a moderate birth weight.  She records 4-99 BWR, 4-107 WR, and 3-107 YR.  She became a donor in the spring of 2018 due to her superior production, fertility, feet, and udder.  Speaking of M3's fertility, she maintains a superb 334 day calving interval.  Her first set of ET calves include several of the very best calves in our spring 2019 crop!
I'm proud to say M3 is a 17th generation bred, born, and raised Hoover cow!  Trace down the dam's line on M3's pedigree, and five of the past six generations of dams have earned Pathfinder honors!  A testament to their true superiority!
M3's first calf weaned at 747 pounds to tie as the third top weaning weight heifer of her crop.  This cow is now a superior young cow in the herd.  M3's next calf was an excellent Top Cut son selling to Clay Howerton.  M3's 2018 son was a photo feature in our 2019 sale and sold to South Dakota Angus breeder Bo Slovek for $13,500.
Pathfinder grandam H118 has also done a phenomenal job, recording 8-99 BWR, 8-104 WR, and 7-102 YR.  Three of her sons have topped the $10,000 mark and 6 sons have averaged $9125.  Two of her sons have been among the top 10 adjusted weaning weight bull calves of their crop.  She is a high marbling cow with 8-120 IMF ratio.  H118 records a 360 day calving interval on her 8 progeny.
Pathfinder great grandam B305 has been one of my favorites – she is a slow, easy-going cow that produced until 14 years of age.  She maintained a 363 day calving interval on 13 progeny, and 13-106 WR! She is one of the few cows in the breed to have produced three Pathfinder daughters!  At 14 years of age, B305's udder was superb.
With the history of fertility, longevity, superior udders, and good disposition found in this pedigree, I highly recommend saving daughters from S4.  Few high dollar bulls will be backed by the heritage and records possessed by this cow family.
S4's first calves arrived in the spring of 2019, and there are definitely some standouts.  One of the best heifer calves of the crop is an S4 daughter.
Semen available for $20/unit; $40/certificate.