BACK TO SIRE LISTING
Bruns Linebacker 432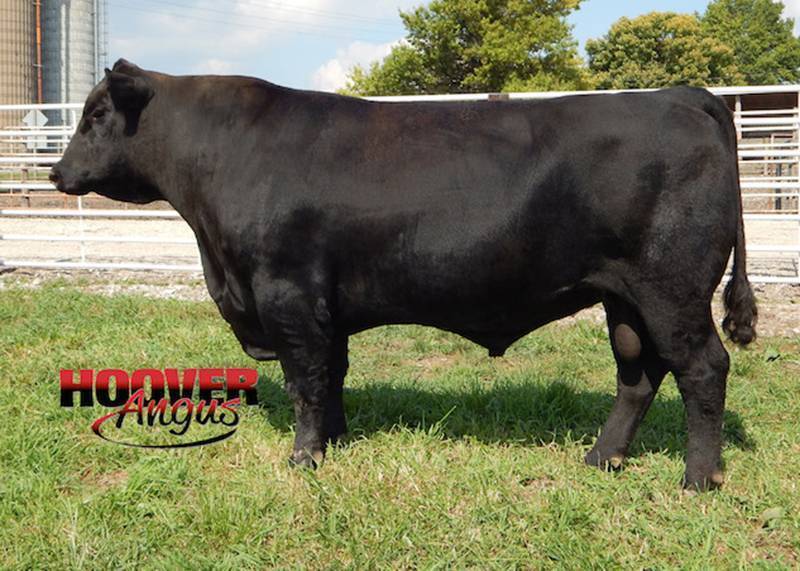 Cherry Crk Online G15
Cherry Crk Lineup 8124
Ms CC Emma 228 5112S #
Styles CC Lineup L3
H S A F Bando 1961#+
Styles Elba J1
Plainview Elba D88
Rito Revenue 5M2 of 2536 Pre #+
LaGrand Revenue 8400
Roth Lady Bell 2137
Windac Chance 1420 Baf #
Mohnen Mullen 154
Windac Chance 997 Baf #
Windac Chance R019
EPDs current as of 9/25/18
Linebacker is a calving ease, correct-made, good-footed sire with an outcross pedigree not only for Hoover Angus, but a majority of the Angus breed. He is super long sided and deep ribbed. He has lots of mating potential. Prior to when Linebacker was selected, we noted his very calm disposition. He continues to stay very gentle, and is has grown into a mature herd bull look.  Visitors to Hoover Angus are quick to ask who Linebacker is because of his impressive look.
Linebacker was born at 75 pounds, weaned at 856 pounds, WR 114, and turned in a 1506 pound yearling weight, ratio 113. He aced his ultrasound scan with a 5.65 IMF, ratio 130, 13.8" ribeye, ratio 105, and rib and rump fat ratios of 77 and 75, respectively. Linebacker's dam and grandam have both earned Pathfinder status.
Females will carry Linebacker's service in our February 6, 2018 production sale.