BACK TO SIRE LISTING
Hoover LEADMAN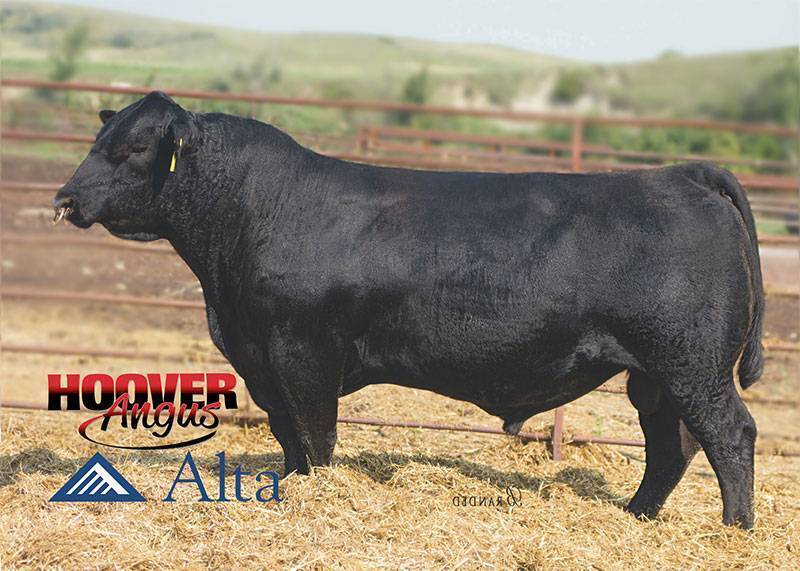 KMK Alliance 6595 I87 #
Connealy Consensus #
Blinda of Conanga 004
Connealy Commander
Rito 6EMA of 4L3 Emblazon #
Gespa of Conanga 9380
Gossipa of Conanga 787
TC Friction 3275
TC Friction 5130 #
TC Barbara 3022
Blkcp Empress Ellston G403 #
TC Gridiron 258 #
Blkcp Empress Ellston D515 #
Blkcp Empress Ellston A648
EPDs current as of 9/25/18
Check out this meat machine! Leadman was hands down the favorite bull of visitors to the farm the summer he was a calf, and has been an absolute standout since. He is long bodied, extremely thick made, and hard to poke holes in. Add great disposition to the list, and he's as good as they come! He's a masterpiece!
Leadman was the #2 adjusted weaning weight bull of the 2015 Hoover crop weaning at 899 pounds, WR 118! He continued with a 1496 pound yearling weight, YR 113, IMF 3.67, ratio 113, and a 16.1" ribeye, ratio 106.  
Pathfinder dam G403 is the 3rd top indexing cow of the herd and records 5-98 BWR, 5-112 WR, 5-111 YR, 12-108 IMF ratio and 12-100 ribeye ratio. She serves as a working donor for us.
G403 started her production with a bang, producing Hoover Emperor as her first calf. Emperor was the #1 adjusted weaning weight, #1 adjusted yearling weight bull of his crop and the top selling bull in our 2012 auction to Genex.  Emperor has been used heavily in overseas markets for producing high growth cattle. Emperor's first daughters in production are excellent uddered, nice disposition, excellent phenotype young cows. An Emperor daughter weaned the #2 adjusted weaning weight heifer calf of our 2016 spring crop!
G403's next calf was a heifer that was the #1 adjusted weaning weight and yearling weight heifer of her crop. G403's third calf also was the #1 weaning weight, #1 yearling weight bull of his crop along with the 2nd top IMF scanning bull. He sold to long-time repeat customers Richard & Jason Swaney. This bull made G403's third-in-a-row calf to claim both #1 WW and #1 yearling weight honors – a feat never knowingly accomplished by any other cow in the history of our herd! G403 has brought 4 featured sons or daughters to auction. Her three sons averaged $14,500, and her three daughters $7675.
G403's individual production: BW 65 lbs., WW 770 lbs., WR 122 to be the 3rd top weaning weight heifer of her crop, and YW 1076 lbs., YR 115 to be the #1 adjusted yearling weight heifer.
Pathfinder great grandam D515 tied as the 8th top indexing cow of the Hoover herd when she was lost to an injury. Her first son was the #1 adjusted weaning weight bull of his crop 921 pounds. D515 produced a total of 4 sons or daughters that were among the top 10 adjusted weaning weight bull or heifer calves of their respective crop.
Leadman is an extremely stout power bull to use on cows. He will sire a whale of a set of calves and replacement daughters!
Semen is available through Alta Genetics at $25/Unit and $25/Certificate.  He serviced cows naturally as a yearling at Diamond J Angus, then headed to Alta Genetics. Stephanie Hatzenbuhler of Diamond J reports, "Leadman holds his condition while breeding and just keeps getting better as the season goes along."
Semen available through Alta Genetics for $25/unit, $33/Certificate.