BACK TO SIRE LISTING
SydGen Journey 8200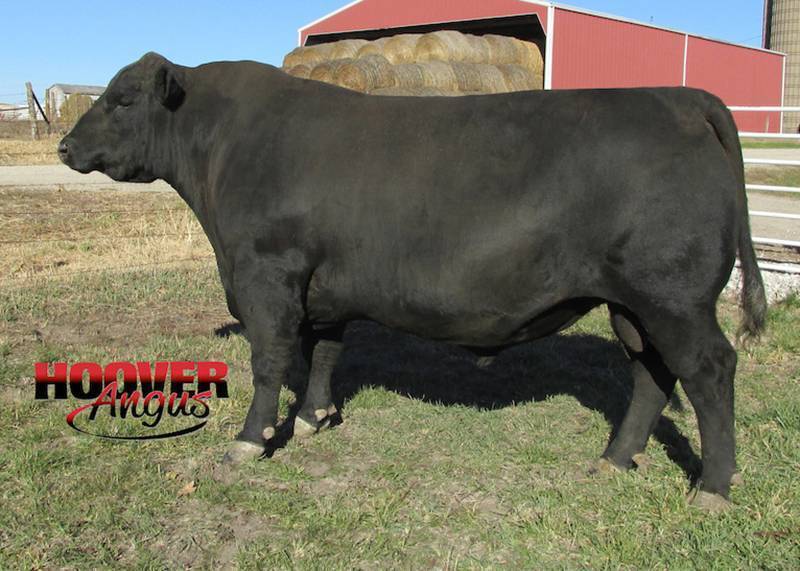 Rockn D Ambush 1531 #
SydGen Rocky Road 2060 +
S A F Blackbird 6028
SydGen Journey 4355
S A F Focus of E R #
SydGen Blackbird Lady 1059
S A F Blackbird Lady 9115
Vermillion Dateline 7078 #
Vermilion Payweight J847 #
Vermilion Lass 7969
Basin Lucy 1736 +
C A Future Direction 5321 #
Basin Lucy 3829 +
Basin Lucy 178E
EPDs current as of 9/25/18
Journey stands out for his phenomenal $Beef Value, surging above the top 1% of current sires! His sons are the biggest scrotal bulls we have to offer, and undoubtedly some of the top growth cattle at Hoover Angus. Journey is a superior foot quality bull. He is still going strong at nearly 10 years of age, and wows visitors with his size and volume.
Weaning at 857 pounds to be the top indexing calf of his crop at SydGen, Journey went on to post a 1393 lb. yearling weight and scan a 16.8" ribeye.
Journey was selected to add frame size and growth. Journey's progeny average a 106 IMF ratio and 100 ribeye ratio. In the fall 2012 Hoover Angus calf crop, Journey sired the #1 adjusted weaning weight bull as well as 4 of the top 10 adjusted weaning weight heifer calves!
Journey's dam, Basin Lucy 1736, has some of the highest growth EPDs among current dams in America! She traces back to the famous Basin Lucy 178E cow who has given rise to one of the most powerful and popular cow families in the breed today. 1736 has been a donor at SydGen, where she consistently produced high volume flushes.
More Journey progeny will be offered in our February 2018 sale. They are hard to beat for growth and added frame!
Semen is available through Hoover Angus for $20/Straw, $40/Certificate.