BACK TO SIRE LISTING
Hoover Hercules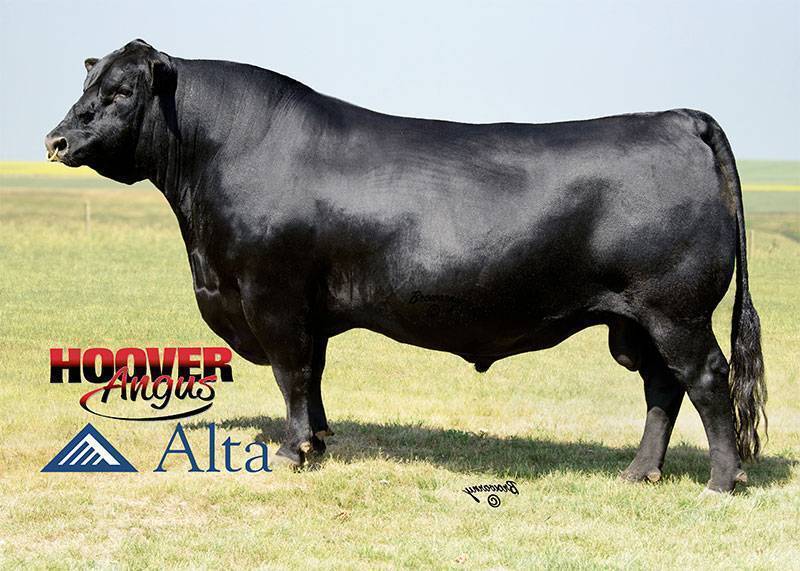 Gardens Expedition #
Basin Expedition R156 +
Basin Primrose Lady 5287
Basin Excitement
Vermilion Payweight J847 #
Basin Lady S532 AK
Basin Lady 306E
SydGen C C & 7 #
Hoover Carbon Copy
Keymura Katy Z99 #
Blkcp Empress Ellston L299
S A V New Design 3105
Blkcp Empress Ellston F186
Blkcp Empress Ellston C109 #
EPDs current as of 9/25/18
Hercules was the $13,000 selection of Alta Genetics in our 2015 auction. Hercules was a true performer as the 2nd top adjusted weaning weight bull of the Hoover crop at 872 pounds from a first calf heifer. He then continued strong with the #1 top adjusted yearling weight in our 2015 sale yearling bulls (non-ET) at 1496 pounds!
Dam L299 was a first calf heifer with Hercules and now records 4-101 WR, 3-107 YR, 3-111 IMF, and 3-103 ribeye ratio.  Maternal grandsire Carbon Copy is a standout CC&7 son noted for his exceptional length of body and growth. Carbon Copy's dam and grandam each earned Pathfinder honors, and his grandam worked in the Hoover herd until 16 years of age!
Carbon Copy daughters have become excellent young cows and have beautiful udders.  A Carbon Copy daughter raised the #1 adjusted weaning weight heifer calf of the spring 2015 Hoover calf crop. A Carbon Copy daughter raised the #2 adjusted weaning weight bull of the spring 2016 Hoover crop!
Grandam F186 has given us some exceptional daughters. Her first daughter is a beautiful CC&7 cow with an excellent udder whose first son was a $12,000 bull selling to Prairiedge Angus and Darrel Smith Angus.
Great grandam C109, a Pathfinder and Hoover Angus donor, has been one of the greatest cows in our history. She is the dam of Hoover Headliner and Hoover G Force, and her 7 sons have grossed $75,500 to average over $10,000! Not too shabby for a 2004 model cow! C109 now records 10-109 WR that excludes a set of high ratioing twins. She is the herd's 13th top indexing cow! C109 serves as the herd's 10th top ribeye ratio cow, and 8 sons have averaged a 15.3" ribeye.
Hercules froze semen shortly after his arrival at Alta and semen is available through Alta for $18/unit and $33/certificate.