BACK TO SIRE LISTING
Hoover Headliner J32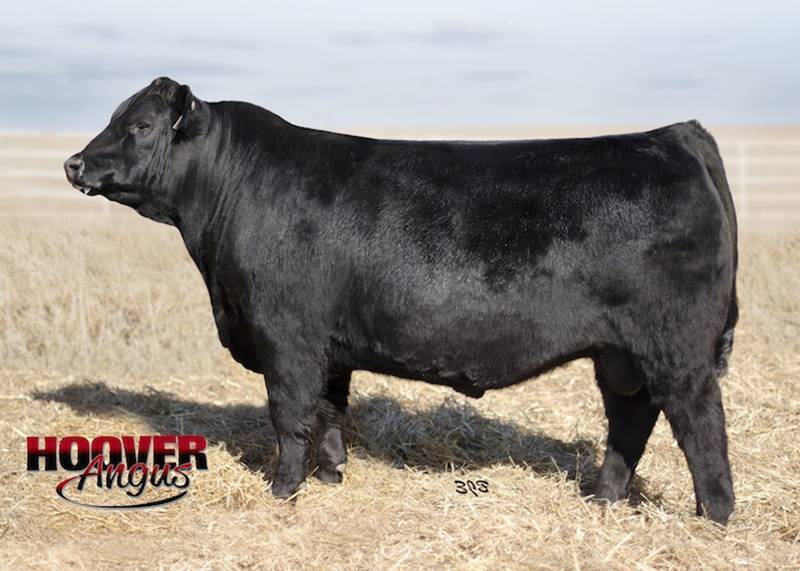 SVF Gdar 216 LTD #+
S A F Connection #+
S A F Royal Queen 5084 +
SydGen C C & 7 #
SydGen 1407 Corona 2016 #
SydGen Forever Lady 4087
S A F Forever Lady 8292 +
G A R Grid Maker #+
TC Gridiron 258 #
TC Blackbird 7049 #
Blkcp Empress Ellston C109 #
S A Neutron 44
Blkcp Empress Ellston A306
Blackcap Empress J350 #
EPDs current as of 9/25/18
Hoover Headliner was the $30,000 top-selling bull in our 2011 auction selling to Select Sires, Plain City, OH. He was the thickest bull of the sale and put everything together in a very complete package. He shares the same docility as his sire, CC&7. He was also stamped with a big ribeye, being the #1 ribeye scan bull of the auction with an 18.4" ribeye. Headliner was the 12th top weaning weight bull calf of this crop at 781 pounds, WR 115.
Headliner calves have exceeded our expectations - they are high growth cattle with muscle, good feet, and good dispositions. They are sound made cattle with a tick more frame than most CC&7 progeny. Headliner sons are huge scrotal bulls, which is beneficial for purebred breeders who need bulls to pass a semen evaluation at one year of age.
Headliner is the third CC&7 son by C109, and all three of these bulls have been at the top of their crop. Full brother Hoover G Force was a bull we retained for natural service. G Force was the 5th top weaning weight and #1 adjusted yearling weight bull of his crop. An ET son of C109 sold as the 3rd top selling bull of our 2012 auction at $15,000. C109's seven sons have grossed $75,500 to average over $10,000. A full sister to Headliner sold as a feature heifer calf in our 2012 auction for $9000.
C109 has achieved Pathfinder status with 10-97 BWR, 10-109 WR, 9-106 YR, 14-109 Ribeye ratio and a 361 day calving interval (which includes stealing flushes three different years). At 12 years of age, C109 weaned a 798 pound heifer calf to be the 3rd top adjusted weaning weight heifer of her crop! C109 serves as the herd's 13th top indexing cow. C109 is a moderate-framed, perfect-uddered cow. C109 is the 12th generation Hoover bred-and-owned Blackcap Empress Ellston cow to survive strict culling in Ellston, Iowa. C109 scanned a 13.4" ribeye to earn a huge Ribeye EPD. She is now the herd's 10th top ribeye ratio cow, and her sons have averaged a 15.3" ribeye!
C109 and her sire Gridiron were laid to rest in the summer of 2017 at Hoover Angus.  They are buried side-by-side, and next to CC&7, north of our herd bull barn.  Only two cows have had the honor of being buried with these breed-impacting sires, one of them being C109.
Great grandam J350 made the Pathfinder report at 14 years of age.
Sire CC&7 has been a significant part of the Hoover breeding program. CC&7 reigned as the #1 Docility EPD bull for longer than any other bull. A total of 165 CC&7 sons have been sold through Hoover Angus sales averaging $6515. Most notable was the $47,500 Hoover Dam, a 3/4 brother to Headliner.
After initially freezing semen, Headliner had an injury to one testicle, which was later removed. Headliner successfully services cows at Hoover Angus, and currently resides there. Semen is currently available in limited quantity.