BACK TO SIRE LISTING
Hoover Explorer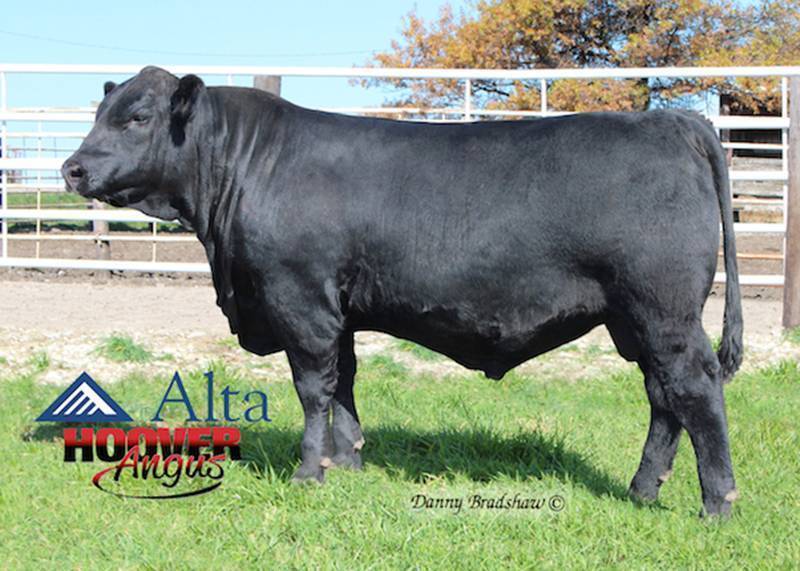 Gardens Expedition #
Basin Expedition R156 +
Basin Primrose Lady 5287
Basin Excitement #
Vermilion Payweight J847 #
Basin Lady S532 AK
Basin Lady 306E
TC Friction 3275
TC Friction 5130 #
TC Barbara 3022
Queen of Ellston H115 #
Roth Famous 1006 #
Queen of Ellston C50 #
Hawley West Girl 227
EPDs current as of 9/25/18
Hoover Explorer was the 4th top-selling bull at $19,500 in our 2015 auction to Alta Genetics in Canada and Diamond J Angus, Mandan, ND. Explorer was the 5th top weaning weight bull of his crop! He was born 7 days early and the calving book notes a "quick & easy birth, got up and sucked in 30 minutes".
Explorer has such a big set of credentials, it is hard to know where to start! From his EPDs to the cow family behind him, he really makes a hard-to-find combination. Explorer offers a unique pedigree for our repeat customers and much of the Angus breed in America today.
Explorer is a big scrotaled, deep bodied bull that can pack in a lot of pounds. He is easy fleshing and has the ability to sire more frame than 90% of Excitement sons. He will sire high performing cattle that have good dispositions. Explorer is a tame, pettable guy.
Pathfinder dam H115 is an amazing, beautiful cow. She ties as the #8 indexing cow of the entire Hoover herd with 6-111 WR! H115's first son was the 2nd top weaning weight bull of his crop, and was a photo feature selling to repeat customer Kirk Egbert in Idaho. A full brother to Explorer was a really correct made, bigger framed bull that was the 11th top weaning weight, 4th top yearling weight bull of his crop and selected by repeat customer Dan Olson. H115's third son was the #1 adjusted weaning weight bull of his crop at 888 pounds. He was a deep bodied, darn good bull selected by repeat customer Jeff Bellamy. Yet another full brother to Explorer sold for $13,500 to Griffin Cattle in MT. H115 now serves as a working donor and maintains a 362 day calving interval.
H115 has an excellent udder, is super deep sided, and has style and eye appeal. She has an excellent disposition. H115 is truly a powerful performance cow, and one of my very favorites along with her mother.
Pathfinder grandam C50 is a working donor that maintains a 366 day calving interval on her 11 natural progeny and we have stolen flushes four different years! Her fertility is exceptional.
C50 is now 12 years old, and she is still as smooth walking and sound as ever. Phenotypically, C50 is probably my favorite cow on the farm. She is a big, stout girl, but very correct in her structure. It is extremely rare to find such a big cow that has as much depth, thickness and quarter as she does and still be structurally correct. I love cows with a little look, and C50 has a lot of "look"! C50 records 11-99 BWR, 11-106 WR, and 9-104 YR.
C50 is the donor dam of the "Magnificent Seven" flush. The top three flush brothers from the Magnificent Seven were the top three adjusted weaning weight ET bull calves in our 2011 crop. C50 has brought 8 photo feature progeny to auction, and has progeny working in 7 different states. Her 14 progeny to come to auction have grossed over $100,000 – a feat only two other cows in the history of Hoover Angus have accomplished!
Great grandam 227 has been retired from the herd, but recorded a whopping 13-113 WR and a 360 day calving interval at the end of her career. She has two Pathfinder daughters to her honor.
Semen available through Alta Genetics for $20/unit, $33/Certificate.