BACK TO SIRE LISTING
Basin Excitement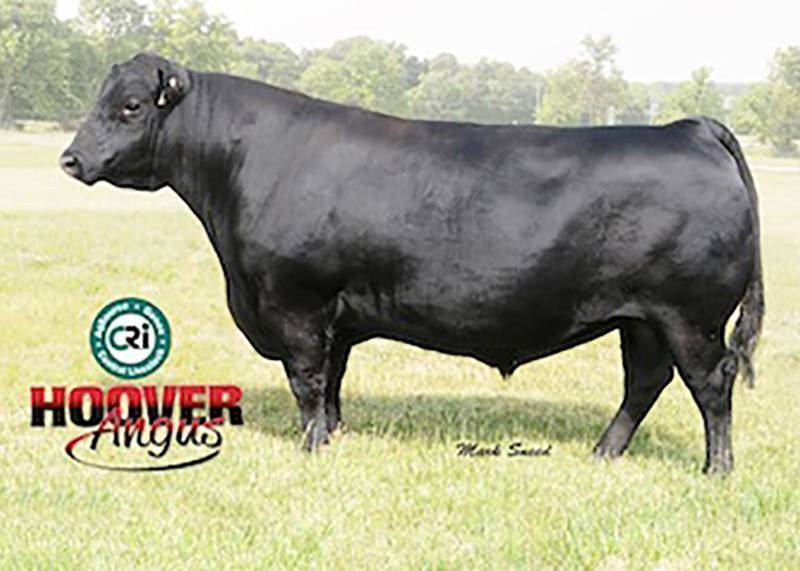 N Bar Emulation EXT #
Gardens Expedition #
Green Garden Gina 2268 S2
Basin Expedition R156 +
Basin Ambush 3905 #
Basin Primrose Lady 5287
Basin Primrose Lady 296E
Vermilion Dateline 7078 # 
Vermilion Payweight J847 #
Vermilion Lass 7969
Basin Lady S532 AK
Basin Max 806C
Basin Lady 306E
Basin Lady 183C
EPDs current as of 9/25/18
The biggest spread bull in the Hoover herd bull line-up, this bull is truly the epitome of curve-bending genetics! Excitement is a true calving ease bull without sacrificing the traits often lost in typical calving ease cattle. He is sound made, clean fronted, and tight sheathed.
Excitement daughters have very uniform, nice udders with small teat size and good udder attachment. They are moderate sized, efficient females that will be easy fleshing cattle that can stand tougher environments. Their mothering skills are good also. They are ideal females! An Excitement daughter raised the #1 adjusted weaning weight heifer calf of the spring 2016 and 2017 Hoover crop! This Excitement daughter is the #1 indexing cow in the entire Hoover herd.
Excitement produced the 2nd top selling bull in our 2014 auction at $25,000 selling to Select Sires, Hoover Elation M123. Two high selling Excitement sons were selected by Alta Genetics in our 2015 auction: Hoover Hercules and Hoover Explorer.
In the fall 2013 Hoover calf crop, the top weaning weight bull was sired by Excitement at 870 pounds. The #1 weaning weight heifer was also sired by Excitement, at 804 pounds. Three of the top five weaning weight heifers of this crop were sired by Excitement. Each successive calf crop has shown equally impressive weaning results.
Excitement is our most trusted sure-fire calving ease sire. Excitement calves out of heifers can come 10-12 days early, with consistently low birth weights. This short gestation will help keep his BW EPD low and CED high. Excitement cattle are easy to market with their "big spread" EPD traits and sound structure.
An Excitement son, Hoover Electrify, produced the 2nd top weaning weight bull of our spring 2013 crop. This bull was the 3rd top selling bull of our 2014 sale at $24,000. Another Electrify son was the 10th top weaning weight bull of our spring 2016 crop! Purchasers of Excitement sons in several states have been well satisfied with how their Excitement sons held up in their first year of service and how their progeny have performed.
Excitement died at stud in 2015 and semen is limited in supply. Look for his sons Elation, Hercules, and Explorer to carry on his tradition of excellence!
Progeny