BACK TO SIRE LISTING
Hoover Emperor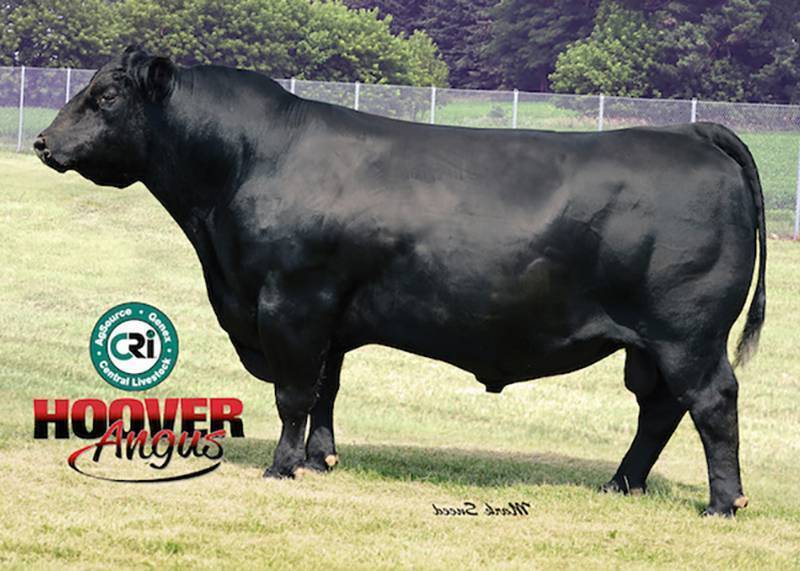 SVF Gdar 216 LTD #+
S A F Connection #+
S A F Royal Queen 5084 +
SydGen C C & 7
#
SydGen 1407 Corona 2016 #
SydGen Forever Lady 4087
S A F Forever Lady 8292 +
TC Friction 3275
TC Friction 5130 #
TC Barbara 3022
Blkcp Empress Ellston G403 #
TC Gridiron 258 #
Blkcp Empress Ellston D515 #
Blkcp Empress Ellston A648
EPDs current as of 9/25/18
Hoover Emperor was the $17,000 top-selling bull in the 2012 Hoover Angus Farm Annual Production Sale, selling 2/3 interest to Genex Cooperative. He was renamed Emperor to signify the 13 generations of "Empress Ellston" cows that have stood the test of time at Hoover Angus in Ellston, IA.
Emperor's calves show tremendous growth. His first crop of daughters were the #1 ratioing sire group at weaning time in the Hoover heifer crop! His progeny have added frame, growth, and stretch. Very similar to CC&7, the Emperor progeny have good dispositions. Comments from commercial producers who used Emperor comment on the uniformity, growth, and good dispositions of the Emperor progeny.
Emperor daughters are making superior young cows. An Emperor daughter weaned the #2 adjusted weaning weight heifer calf of the spring 2016 Hoover crop at 805 pounds!  An Emperor daughter also weaned the #1 adjusted weaning weight bull calf of the 2016 crop at 928 pounds!  An Emperor daughter ties as the 4th top indexing cow of the Hoover herd.
From being the #1 WW bull and #1 YW fall bull of his crop, to being the 3rd top IMF bull, this guy really nails it. He is definitely a high growth bull who can sire the same. International visitors to Hoover Angus have found Emperor to be one of their favorite sires.
Emperor offers a unique combination of economically important EPD traits, as well as an excellent Scrotal EPD – a critical trait for purebred producers selling bulls that need to pass a semen test at one year of age.
Pathfinder dam G403 was a first calf heifer with Emperor. Her first three progeny were all the #1 adjusted weaning weight bull or heifer calf of their respective crop! She is the only cow in the herd to have accomplished this feat on her first three calves! G403 weaned the #2 adjusted weaning weight bull of our spring 2015 crop! Alta Genetics and Diamond J Angus selcted this bull, Hoover Leadman, as the 6th top-selling bull of our 2016 auction at $17,500. G403 now records 5-98 BWR, 5-112 WR, 5-111 YR, 12-108 IMF ratio and 12-100 ribeye ratio! She serves as the herd's 3rd top indexing cow and a working donor.
G403 weaned at 770 lbs., WR 122, YW 1076 lbs., YR 115. She was the 3rd high weaning weight heifer of her crop and the #1 adjusted YW heifer!
Maternal grandsire Friction is a calving ease, high growth bull that has made superb cows. Friction has 52 daughters in production with an average 101 WR on their progeny! Friction was leased to Accelerated Genetics as a four year-old bull, and shortly thereafter had an injury to the jaw, from which the bull did not recover.
Pathfinder grandam D515 was one of our most productive cows tied as the 8th top indexing cow of the Hoover herd when she was lost to an injury.
Semen is available through Genex or Hoover Angus at $18/Straw, $35/Certificate.