BACK TO SIRE LISTING
Hoover Amibition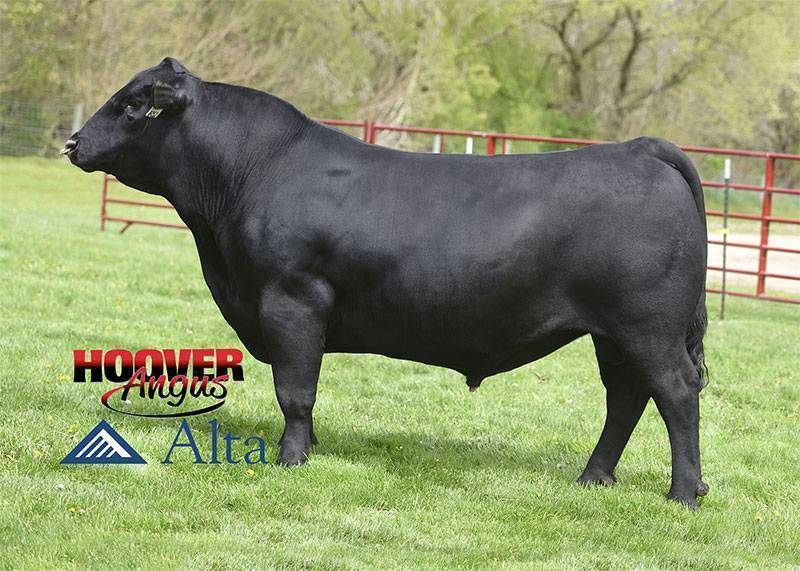 KMK Alliance 6595 I87 #
Connealy Consensus #
Blinda of Conanga 004
Connealy Commander
Rito 6EMA of 4L3 Emblazon #+
Gespa of Conanga 9380
Gossipa of Conanga 787
Connealy Mentor 7374 #
Connealy Counselor +
Jaze of Conanga 234
Erica of Ellston L5
SydGen C C & 7 #
Erica of Ellston G366 #
Erica of Ellston D184
EPDs current as of 9/25/18
Ambition was so named because of his ambitious growth – he was the #1 adjusted weaning weight ET bull calf and also outweighed all non-ET calves of the 2015 Hoover crop at 919 pounds! A beautiful flush sister to Ambition was the 3rd top adjusted weaning weight ET heifer of the crop. Better yet, Ambition is from the same cow family that has already produced a "Great One", Hoover Dam.
Growth, growth, growth! Ambition has tremendous length, power, mass, and added frame. He is a bigger boned bull that will sire excellent performance. He posted a 1482 pound yearling weight, YR 107.  Ambition was the $30,000 second top-selling bull in our 2016 auction to Alta Genetics.
Donor dam L5 is a beautiful cow that sold as an elite donor to Baldridge Bros. in the spring of 2017. She had stunning individual performance: BW 74 lbs., WW 779 lbs., WR 116, YW 1160 lbs., YR 114, IMF 7.05, ratio 119, ribeye 14.6", ratio 119. L5 was the #1 adjusted weaning weight, #1 yearling weight and 5th top scanning ribeye heifer of her crop! Her ribeye scan was nearly 5" above breed average for heifers!
L5 records 3-105 WR on her natural progeny and 12-102 IMF ratio and 12-103 ribeye ratio.  L5 recently weaned an 842 pound heifer calf at Baldridges to ratio 105 in a small contemporary group of donor cows' calves! L5's only daughter in the Hoover herd raised the 9th top adjusted weaning weight heifer calf of our spring 2016 crop.\
Pathfinder grandam G366 – I could write a book on this cow!  She is truly one of the most incredible females ever bred in our 89 year-old herd.  She has grossed $158,000 in registered progeny sales.  She records 8-98 BWR and 8-107 WR with a 365 day calving interval on those 8 progeny.  That includes stealing flushes four different years!
G366's progeny have stood up to the test in our past production sales. Eight of her sons and daughters have been photo features, and 7 of her progeny have sold for $10,000 or more. G366 and her daughter L5 are the only mother-daughter pair in the herd to have each grossed over $100,000 on registered progeny sales.
Several of G366's progeny have been among the top weaning weight calves of their crop.  L5, mentioned above, was the #1 WW heifer of her crop. The very next year, G366 repeated this accomplishment with another #1 WW daughter. To make it three years running, an ET son claimed #1 WW honors over the entire crop (ET and non-ET progeny) in 2015!
G366 produced the Lot 1 and Lot 2 bulls in our 2017 auction selling for $14,500 and $9500. G366 was the grandam of both the Lot 1 and Lot 2 bulls in our 2016 auction. A direct daughter of G366 was the co-top selling bred heifer in our 2016 auction.
If you are looking for a bull that is really deep in quality and from a tremendous cow family, you will be interested in G366's individual performance data: BW 67 lbs., WW 716 lbs., WR 120, YW 1020 lbs., YR 119, IMF 6.79, ratio 131, ribeye 11.5", ratio 115. She was the 4th top weaning weight heifer of her crop!
Fifth generation dam is the grandam of Hoover Dam.
Semen available through Alta Genetics for $25/unit, $33/Certificate.